VietNamNet Bridge – The total economic potential of ground-mounted solar projects in Vietnam is at least seven gigawatts (GW) under present market conditions, much higher than the national solar target of 0.8GW by 2020, according to experts.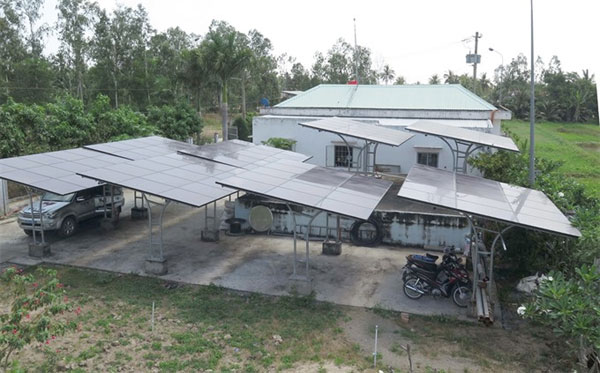 The total economic potential of ground-mounted solar projects in Vietnam is at least seven gigawatts (GW) under present market conditions, much higher than the national solar target of 0.8GW by 2020, according to experts. — VNA/VNS Photo
However, with the decrease in costs expected to take place once the market starts growing, the economic potential could reach several hundred Gigawatt between 2021 and 2030, far beyond the target of 12GW by 2030.
"Vietnam is endowed with significant solar potential, especially in the central and south of Vietnam," Nguyen Anh Tuan, director of Electricity and Renewable Energy Agency, said in a workshop on Wednesday titled "National Assessment of development potential of grid-connected solar photovoltaic projects in Vietnam until 2020 with a vision to 2030".
Solar power projects are mainly carried out in the Central and Southern regions, where the total solar irradiation is highest in the country.
Until 2020, with the present market conditions, most of the projects would take place only in the south-central provinces of Binh Thuan and Ninh Thuan.
But after 2020, projects would be expanded in other provinces, including Tay Ninh, Binh Duong, Binh Phuoc, Long An, Ba Ria-Vung Tau and border areas between Dong Nai and Binh Thuan.
According to Tuan, four scales of solar PV systems exist in the Vietnam market: household, commercial scale, small PV power panel and grid-connected PV power plant.
At present, total installed capacity of 8MW is in operation, mainly at a small scale through demonstration projects.
About 115 grid connected solar PV power projects of utility scale have been in the pipeline for some provinces with high solar power potential. They were at different stages of development, such as obtaining permission for project site investigation, permission for investment and formulation of investment construction projects.
As of the end of 2017, it was estimated that PV panel production plants in Vietnam have a total design capacity of about 6,000MW with annual production of about 300-400MW for export.
Environmental, economic and social impacts
According to Dang Huong Giang, an expert from Viet Nam Energy Institute, grid-connected solar power projects require large flat land areas.
These land areas include unused land, shifting forest land, agricultural land, water surface land, people land and public structure land turned into industrial land for projects.
These lands would be restored to their initial state at the end of projects.
Unused land, wild land, production forest land, inundated land, inefficient one-crop land and inefficient production forest land could be used for solar power projects.
According to results of an investigation in 2017, the number of households to be removed from solar power project areas during the preparation of the supplemented plan and construction time was small.
In the future, the construction of solar power plants will have little impact on the resettlement and replacement of households. Households will be compensated by project owners in accordance with regulations, said Giang.
Developing the solar power plants would help reduce exploitation and use of fossil fuels, use of natural resources and coal from foreign countries.
"Because solar power projects will be developed on wild land and inefficiently used land, the impacts on the ecological system and biodiversity are insignificant and could be prevented and mitigated if the solar power projects are developed in potential areas as defined in plan," she said.
Besides, solar power plants use solar energy for electricity generation, not creating dusts or toxic gases, especially GHG emission which causes climate change on the earth.
However, no renewable energy project could totally avoid environmental impacts, even solar PV power technology.
"Latent environmental impacts depend on the scale and type of projects and are usually related to specific locations (impacts on land, landscapes)", Giang said.
"Most adverse impacts are related to the plant construction stage and plant dismantlement stage. But these adverse impacts are small and can be reduced by mitigations measures", she added.
So, it could say solar power can be considered a clean and safe energy source.
"Financial closing for projects is difficult with present market conditions but once the market has developed and the prices drop the solar PV potential will increase dramatically," said Sonia Lioret, Head of GIZ's project.
The workshop was organised within framework of the Renewable Energy and Energy Efficiency (4E) Project, which is jointly implemented by Vietnam's Electricity and Renewable Energy Agency (EREA), the Ministry of Industry and Trade and Germany's International Co-operation Agency (GIZ).
Source: VNS