The 13rd ASEAN CIO/CSO Awards 2017 honoured 26 leading Chief Information Officers (CIOs) and Chief Strategy Officers (CSOs) with outstanding contributions in information technology (IT) and information security in Viet Nam and Southeast Asia on Friday in Ha Noi.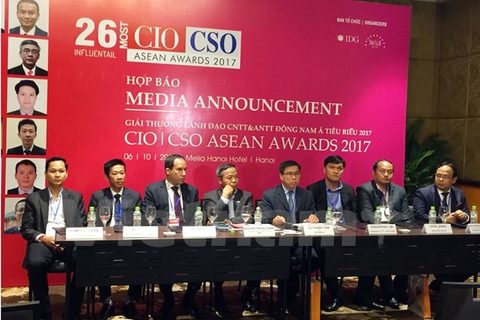 Press meeting to announce the list of 26 outstanding CIOs, CSOs with contributions on IT and information security in Viet Nam and Southeast Asia. 
The awards brought together IT and information security leaders from Viet Nam, the Philippines, Cambodia and Myanmar, who are CIOs and CSOs of governmental organisations, civil organisations and enterprises operating in finance, education, health, and telecommunications.
Typical projects include VTV Go (VTV Digital under Viet Nam Television), National Admissions Portal (ICT Department under the Ministry of Education and Training), vConnecxion (VNPT Technology), Homecredit Mobile Application (Homecredit Viet Nam) and FLEXCUBE Universal Banking Solution (KBZ Bank of Myanmar).
In the era of the fourth industrial revolution, IT and information security is crucial to sustainable development of enterprises. The vision and management roles of IT and information security leaders are vital to run IT solutions serving tens of millions of users.
The awards, annually held since 2005, honour outstanding individuals in ASEAN in leadership of IT and information security, contributing to enterprises, organisations and communities in an effective manner.
The awards are also an opportunity for IT and information security leaders to discuss the latest developments of IT and information security in Southeast Asia.
The evaluation process includes nominations/applications, verification, face-to-face interview, and two evaluation meetings with a board of judges.
The awards this year acknowledge the improvement and development on planning, building up strategies, strategic vision, implementing and improving information security to ensure information and data protection as well as working processes.
The event was organised by the International Data Group (IDG) in collaboration with the ministries of national defence, information and communications and public security and science and technology. 
VNS