Leading domestic telcos are strongly committed to expanding 4G coverage through infrastructure investment, albeit users are still modest in number about four months after the service was launched.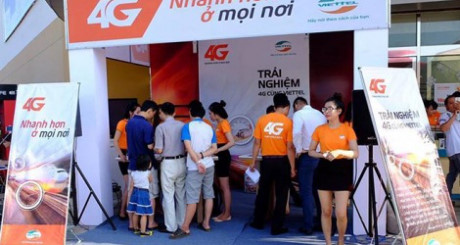 In a recent talk with VIR, Tran Manh Hung, chairman of Vietnam's leading state-owned post and telecom group VNPT, said that VinaPhone, a key subsidiary of VNPT, has distributed more than nine million 4G SIM cards, however, only 15 per cent of the company's subscribers, mainly in Hanoi and Ho Chi Minh City, have tried 4G services.
In other locations, 83 per cent of subscribers have reportedly changed for 4G SIM cards, but only 17 per cent have shifted to using 4G services.
"Active 4G users still fall short of expectations. Maximum 15-20 per cent of subscribers are forecast to engage in using 4G services," said Hung, adding that until today nearly 50 per cent of their subscribers have been using 3G since the service was rolled out in 2009.
According to a source from military-run telecom giant Viettel, their 4G subscribers currently number 5-6 million, less then 10 per cent of their total subscribers.
Hung from VNPT has offered a comprehensive list of reasons why 4G services are underdeveloped.
First, only a fraction of smartphones is compatible with 4G technology, and 4G smartphones remain expensive.
Second, part of the 3G subscribers have switched to 4G after its launch, which helped improve the speed and quality of 3G network services, making subscribers reluctant to switch.
Third, the fast pace of optic cable network expansion means that hi-speed Wi-Fi is now widely available in many parts of the country.
More stringent procedural requirements towards 4G subscribers have also contributed to slowing down the pace of rolling out 4G services.
In this context, VNPT shows commitment to further develop 4G services by boosting services in big urban centres with actual demand.
According to schedule, until the end of the year, VNPT will install an additional 3,000 4G small cells in Hanoi and Ho Chi Minh City, and about 7,000 4G stations in other localities, based on customer demand.
Earlier, the telco was set to install 14,000 4G stations across the country, with 2,500 stations in Hanoi and Ho Chi Minh City each.
According to VNPT VinaPhone deputy general director Nguyen Truong Giang, the corporation prioritises quality over quantity in 4G service deployment and commits to providing the best 4G services in the country.
Tao Duc Thang, deputy general director of Viettel, unveiled that after installing 36,000 4G stations that cover 99 per cent of localities nationwide, they will install 5,000 more stations by the end of the year throughout the country to serve customers.
The group is contemplating increasing 4G small cells in "black spots" where installing 4G stations proved impossible in the past, such as festive venues, entertainment sites or mountainous areas.
As the cost of small cells is only 10-20 per cent of a big BTS station, the move could benefit all stakeholders.
The Ministry of Information and Communications (MIC) has provided 4G service licences to four telecom firms in Vietnam, including Viettel, MobiFone, VNPT, and Gtel.
According to IDG's survey results on 4G service usage in Vietnam in July 2017, of the three telecom service providers that have engaged in providing 4G services, 52 per cent of 4G users come from Viettel, 21 per cent from MobiFone, and 27 per cent from VinaPhone.
Global Telecommunications Corporation (Gtel), a unit under the Ministry of Public Security, was licensed to operate 4G services last October.
Until now, its progress to launch 4G services remains unknown.
The last player in the Vietnamese telecom scene, Vietnamobile, was reported to have submitted the necessary documents to apply for a 4G service licence, but the approval remains forthcoming.
VIR