The Authority of Broadcasting and Electronic Information (ABEI) under the Ministry of Information and Communications on September 14 announced a list of 83 websites that have been found to infringe copyright rules.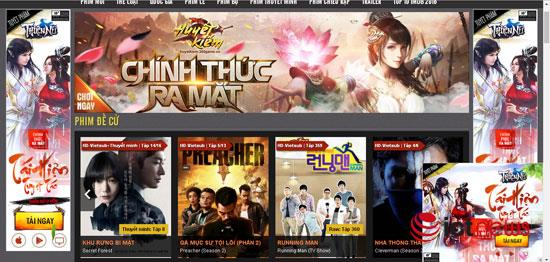 phimmoi.net, one of the 83 websites in the list.
There are many high-traffic websites on the blacklist, including phimmoi.net, bilutv.com, phimbathu.com and hdonline.vn, which allow visitors to watch free high-definition movies online.
According to ABEI, copyright compliance is an important factor that contributes to creating healthy competition among broadcasting firms and boosting the development of the digital content and pay television sectors in the country.
ABEI earlier cooperated with the Vietnam Pay Television Association (VNPayTV) to hold a conference on solutions to prevent television copyright infringement on the internet.
Particularly, domestic websites that violate copyright regulations will be fined, suspended or banned from accessing the content delivery network.
For websites hosted on overseas servers, relevant authorities will ask Vietnamese businesses to suspend advertising on these websites, or ask the home countries to suspend the websites if copyright infringement is found.
SGT