VietNamNet Bridge – Phi Anh De, 40, a mechanic of Mekong Delta province of Phu Yen's Son Nguyen Commune, dropped out of school after primary school but has created cheap yet effective agricultural machines in his hometown – an area specialised in growing sugarcane.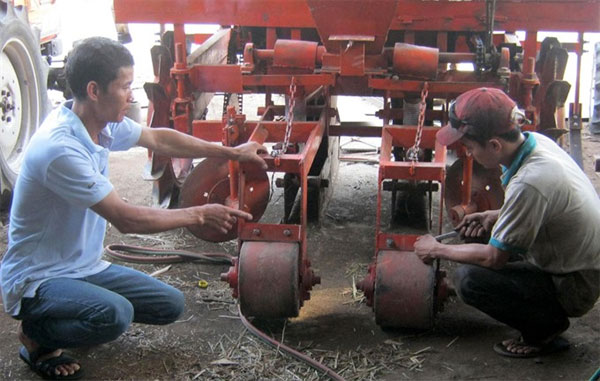 De (left) instructs a labourer at his workshop. — Photo baophuyen.vn
De went to HCM City to earn living in 2000 and worked as a mechanic. In 2004, he returned to his hometown and opened a small mechanic workshop to repair agricultural machines for local farmers.
De's began making his own machines after a farmer whose plough he was fixing complained that the machine was difficult to use and didn't till soil evenly.
De was inspired to make his own plough, re-shaping the device so that it could easily and evenly cut the soil, Nong thon ngay nay (Countryside Today) newspaper reported.
He then produced and sold hundreds of the ploughs to sugarcane growers at the same price as the ploughs local farmers used at that time. His first product was warmly received by the farmers.
His passion to make farm equipment was sparked by that first product.
De saw local farmers working hard to weed grass and fertilise their sugarcane fields and thought he could combine the two machines used for the works into one. Not long after, the machine he made helped reduce the time to weed grass and fertilise from three days for every two hectares to one day.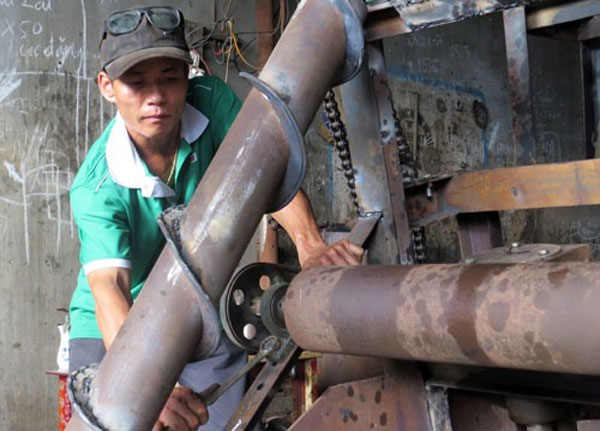 De and his machine for chopping waste after farmers harvest sugarcane. — Photo danviet.vn
Nguyen Van Anh, a local farmer who bought the machine from De, said the machine worked very well, both weeding grass and fertilising sugarcane trees at the same time.
Using De's machine, he could save costs of about VND5-10 million (US$219-439) per hectare compared to imported machines. The machine even worked well on rough terrain, Anh said.
De's third creation was a machine for growing sugarcane. It took him about two months to create, the longest time for any of his machines so far. The machine was designed to turn the soil, dig furrows and bury soil to grow sugarcane. It works with a driver sitting in front and two people sitting behind to put baby sugarcanes down.
Tran Chau, a sugarcane grower in the commune, said he bought the machine in 2015. It helped him save costs of about VND2 million ($88) per hectare compared to planting sugarcane by hand.
When the baby sugarcanes were put into the furrows, the machine would immediately bury soil, which was still wet, helping a lot in the process, he said.
The mechanic also made a machine to harvest sugarcane and a machine to chop waste after the growers harvested sugarcane, Chau added.
Chau said he and other farmers liked machines made by De very much, adding that each of the machines De made was about VND4-20 million ($176-880) cheaper than similar imported machines.
"It's a reasonable price for farmers," he said.
Dang Van Thien, chairman of the People's Committee of the commune, said De not only made cheap and effective machines for local farmers, but his workshop also provided jobs for seven local labourers with monthly salary of VND5-7 million ($220-308).
So Minh Nghia president of the Farmers' Union of the commune, said thanks to De's machines, the income of local sugarcane farmers had increased.
De said he would continue studying to make more agricultural machines to assist local farmers to reduce production costs, raise productivity and make his hometown richer. 
VNS