VietNamNet Bridge - Many of Vietnam's precious rice varieties only exist in the national plant gene bank and yet to be used commercially.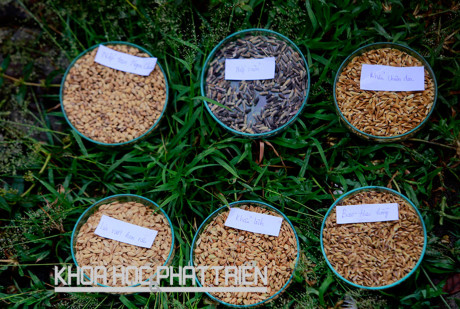 Vo Tong Xuan, a leading rice expert, said when he visited other countries to learn about rice markets, he met many overseas Vietnamese who wished they could buy the special rice which was formerly available.
However, many specialty rice varieties are no longer grown on Vietnam rice fields as farmers focus on high-yield varieties. 
Many of Vietnam's precious rice varieties only exist in the national plant gene bank and yet to be used commercially. 
Xuan has tried to prove that if scientists and businesses join forces to restore precious rice varieties, they will succeed because the demand is high. As people's income has improved, they want to buy better products. 

TH True Milk is moving ahead with the project on restoring Vietnam's specialty rice varieties. It will use world's most advanced technologies, Vietnamese brainpower and natural resources will be used to create special rice products for the world market.

"We are seeking in the national plant gene bank the best rice varieties for restoration. In the immediate time, nep rong and du huong – the specialty rice varieties of Nghe An province – will be restored and replicated," said Tran Duy Quy from the Institute of Organic Agriculture. 

There are many specialty rice varieties stored at the national plant gene bank, and at universities and research institutes, but it will take at least two years to restore the varieties and put them into large-scale production.

Unlike high-yield rice varieties, which allow three crops a year, farmers will have only one crop with specialty rice varieties.

At the gene bank, 20 grams of seeds are stored for each rice variety, so only 10 grams would be provided.

As such, there would be 400 rice plants for the first crop, enough to be grown in an area of 40 square meters (9 plants per square meter). 

These rice varieties can produce 3 tons per hectare, or 0.3 kilo per square meter. This means that enterprises will have 12 kilos of seeds after the first crop, and large-scale production will only begin from the third year.

Scientists, after collecting rice varieties, will select and evaluate the genetic diversity and sequencing of varieties for Vietnamese copyright.

Tran Dinh Long from the Vietnam Seed Association said he supports the restoration of Vietnam's precious rice varieties. However, he said it is necessary to conduct thorough market surveys to ensure success.
RELATED NEWS
Jasmine fragrant rice to be developed as Vietnam's national rice brand
"Mother" of hybrid rice varieties
Chi Mai