The HCM City Department of Information and Communications on Wednesday announced the launch of the 9th Information and Communication Technology Awards.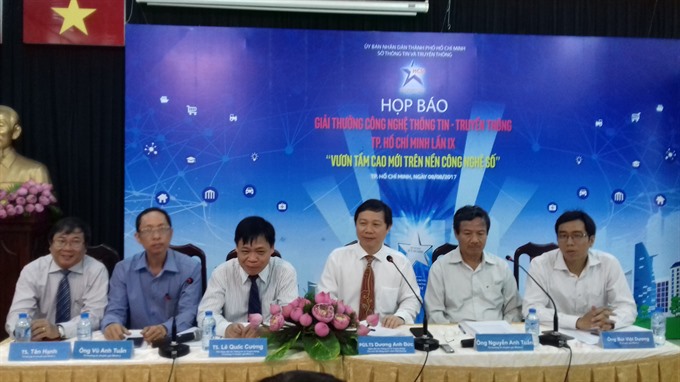 Officials from the HCM City Department of Information and Communications announce the launch of the 2017 ICT Awards on Wednesday. 
The awards are meant to identify and honour innovative and practicable ICT products, solutions and services that contribute to the city's development.
This year the award, with the theme "New heights in digi-tech," focuses on digital technology in the context of HCM City planning to turn into a smart city by 2020 by using ICT.
The awards will be given in six categories: software developed by companies, hardware made by companies, services developed by companies, ICT developed by individuals and groups, individuals and groups who have made great contributions to the development of the city's ICT sector, and students in ICT majors with outstanding academic achievements who do scientific research.
According to Le Quoc Cuong, deputy director of the department, priority will be given to new products developed by newly-established companies.
The city will help popularise the award-winning products, solutions and services to make people's lives better and more convenient, improve e-governance and encourage investment.
Asked whether the award should be given in more categories, Duong Anh Duc, the department's director, said the awards are reviewed every year to keep up with market trends.
In its 10th year next year there would be a major review by the department, which would consider improvements and changes to make it more practical and attractive to participants, he said.
Cuong said it would also "go look for" eligible companies and individuals to encourage them to enter the awards rather than just "sit and wait for them to send applications."
Entries for this year's awards can be submitted until September 30.
Information about the awards is available at ictawards.ict-hcm.gov.vn.
In the last eight years 77 ICT products, solutions and services have received the awards and 34 groups, 10 individuals and 25 students have been honoured.
Cuong said many of the award-winning products and services have been used including many developed by renowned names like FPT, VNG and Youth Net.
VNS