The second International Conference on Information Technology Outsourcing/Business Process Outsourcing in Viet Nam will be held in HCM City next October.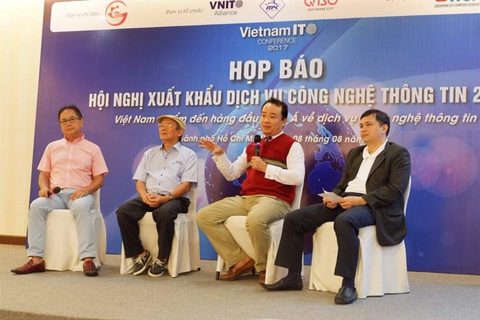 A press conference was held in HCM City yesterday to introduce the 2017 International Conference on Information Technology Outsourcing/Business Process Outsourcing in Viet Nam in October. 
Speaking at a press conference in HCM City on Tuesday, Lam Nguyen Hai Long, president of the Viet Nam IT Outsourcing Alliance (VNITO Alliance) and CEO of Quang Trung Software City, said according to Cushman & Wakefield, Viet Nam ranked first in BPO and Shared Service Location in the world last year.
A Jones Lang LaSalle report earlier this year ranked HCM City (second) and Ha Noi (seventh) in the top 10 global City Momentum Index.
Gartner placed Viet Nam among the Asia-Pacific's top six Global Delivery Country Destinations, and "that is a rewarding endorsement and motivation for us to have 'Viet Nam – Asia Tier 1 Delivery Destination' as the slogan for the 2017 VNITO Conference," Long said.
Nguyen Huu Le, chairman of TMA Solutions and a VNITO advisory board member, said the outsourcing industry in Viet Nam had many opportunities and challenges.
"The opportunities are that more and more people know about Viet Nam, many organisations rank Viet Nam highly in IT processing, and the Industrial Revolution 4.0 has a high demand for IT human resources," he said.
"The challenges are how to meet the global requirements and develop the industry in the long-term," he said.
To do that, there must be contributions from all stakeholders in ICT, he added.
Hung Q.Nguyen, chairman and CEO of LogiGear Corporation, said with technology today changing faster than ever, businesses would be required to know about cloud technology, artificial intelligence and other technologies.
"To develop further, businesses in the sector need to invest in innovation, training and research and development," he said.
Besides the English-speaking markets, Japan is also a promising market for Viet Nam's IT outsourcing companies, according to Le.
But to do businesses with Japanese firms, Vietnamese companies must have IT engineering teams that can communicate in Japanese.
This is a big opportunity but also a challenge for Vietnamese firms since there is a shortage of IT workers who know Japanese.
To be organised by VNITO Alliance, QTSC and the Investment and Trade Promotion Centre and supported by the HCM City Computer Association and Viet Nam Resource and IT Development Group, the conference on October 19-20 at the GEM Convention Center is expected to attract 500 participants from multinational and hi-tech companies, Vietnamese IT services enterprises, IT associations, trade promotion centres, and IT universities, colleges and training centres.
The event will provide information about the country's software industry, big data, cloud, Internet of Things and artificial intelligence in Viet Nam.
There will be discussions on how to attract talent, capabilities of IT human resources, outlook on and insights into the Vietnamese BPO industry and others.
The 2017 VNITO Conference will also focus on promoting the country's BPO capabilities and investment in localities such as Lam Dong Province.
The bi-annual conference targets to promote Viet Nam as an emerging IT outsourcing destination and offer a business matching platform for buyers and Vietnamese vendors. 
VNS