VietNamNet Bridge – The Internet is an immense source of information, but it also comes with some serious risks for its users.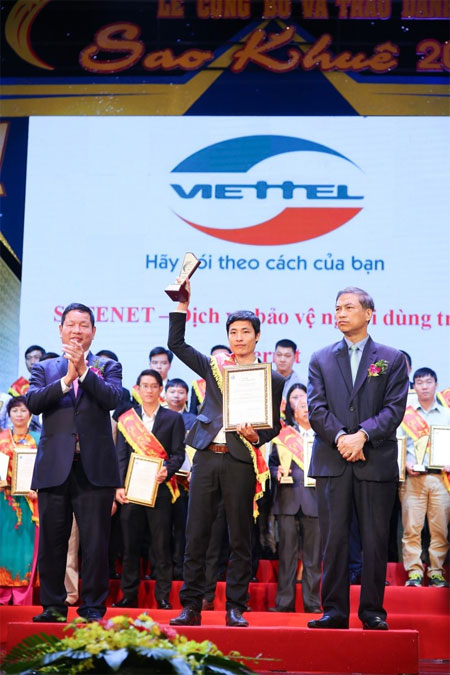 Recognised: Safenet has received the "Sao Khue Recognition of Excellence 2017" award under the Newly Launched 2016-2017 Software Products of Viet Nam category. — Photo courtesy of Phan Duc Dung
As a father and a coder, Phan Duc Dung, 30, is well aware of these.
He has responded to this awareness by developing a software product named Safenet that aims to protect users from harmful websites.
Dung, who majored in Information Technology at the Ha Noi University of Science and Technology, choose this discipline without knowing what it was about, inspired by older friends who'd become IT students.
"But I feel it is IT and coding that define me today," Dung said.
The idea of Safenet, a tool to protect Internet users, especially children, was something that Dung had been thinking about for some time.
When he surfs the net, there are two topics that he always pays more attention to: world news and society news. He feels the former gets him up to date with current trends and changes, while the latter makes him more aware and alert about threats and risks in life.
"It was from society news that I got to know tragic stories in which the victims were deceived or abused through the Internet. I always felt sad for the victims, especially children who are not mature enough to be aware of these devils and are likely to be trapped and deceived," Dung said.
In 2015, he was assigned the task of developing and launching a protection software, pushing him to go ahead with something that he'd long thought of.
"I was glad to be assigned a task that aligned with something that I had been planning for long in my mind," Dung said.
It took a year to complete the project and ready it for users, with several surveys and studies conducted prior to the release.
"It is actually surprising that most parents pay a lot of attention to their kids, but fail to have an effective tool to protect them from Internet risks. Keeping watch on kids whenever they surf is impossible. Moreover, in the first place, parents are not fully capable of protecting themselves from tricksters on the Internet," Dung said.
When users register to use the Safenet service with a monthly fee of VND15,000 (60 US cents), the 'filter' system is activated and users are protected from harmful websites.
Safenet blacklists millions of "bad websites" and blocks them. These websites are classified under different categories like gambling, violence, advertising, pornography, and games.
Users can choose the category or site they want blocked.
Once Safenet mode is on, all devices using Internet will automatically be protected. The blacklist can be customised – users can add more to or remove websites from the list.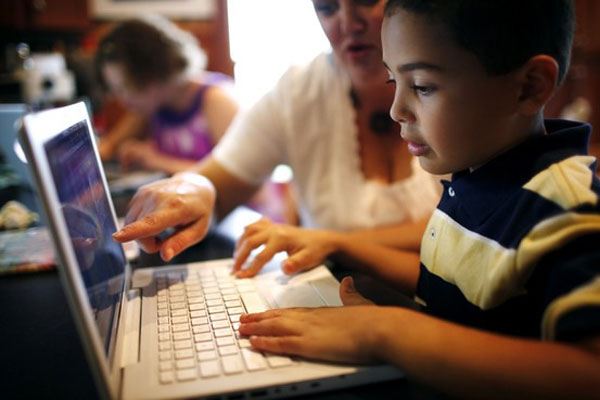 Keeping an eye: Most parents fail to pay close attention to their kids as they surf the Internet. — Photo pcworld.com.vn
They can also block all contents to prevent children from being distracted or schedule de-blocking times.
Detailed information about the number of blocks and time of blocking will be emailed to parents on a monthly basis.
Parents therefore can also supervise the time that their kids spend on Internet and get to know what kind of websites their children are trying to visit.
There are other similar services and applications in Viet Nam, but Dung said their blocking is not very efficient and thorough.
Users can still visit a website blocked by an application by using the IP address of the website.
Safenet handles this problem as it protects users directly from the Internet provider. With Safenet, all the domain names, link, DNS and IPs on a blacklist are blocked, therefore risks are prevented before they reach the user's device.
"During the project's peak time, all the team members stayed up all night, surviving on instant noodles as we prepared for the demo process. There were times when things got very intense and stressful, but we never thought of giving up because we were confident about the feasibility of the project and the value it would deliver for the community," said Dung.
Every day, new risks are automatically detected by the software. On average, 1,000 additional domain names are added to the Safenet blacklist every day.
"By using a scoring method based on Key Performance Indicators (KPI), the system can automatically categorise a website and decide whether or not it should be included in the blacklist. Automation helps reduce the human workload a lot," said Dung.
Safenet has got the "Sao Khue (Vinus) Recognition of Excellence 2017" award under the Newly Launched 2016-2017 Software Products of Viet Nam category.
The Vinus award, granted every year from 2003 by the Viet Nam Software and IT Service Association, is presented to outstanding products and services, based on their socio-economic effectiveness, brand reputation, revenue and market share, as well as technological innovation.
Safenet expects to have 300,000 users by the end of this year.
 "I am not married so I don't care much about blocking bad information on the Internet. But my computer has contracted many viruses recently. I used Safenet and am happy with their malware blocks," said 23-year-old Hanoian Nguyen Van Huy.
"I am always worried when my children read comic books and watch movies with no control when I'm not home. Since I began using Safenet, I have more peace of mind," said Nguyen Khai Hoan, a 38-year-old Hanoian.
"My work philosophy is simple: 'bring value for the community'. It guides what I do," Dung said. 
Hong Van & Ngoc Tram 
VNS