The sixth ASEAN+3 Junior Science Odyssey (APT JSO - 6), themed "Renewable energy for life," is being held at Haa Lac Hi-tech park in Hanoi.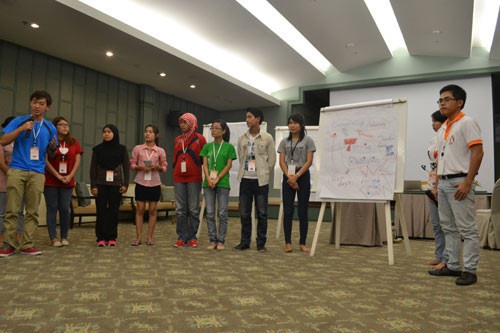 Viet Nam hosts the sixth ASEAN Plus Three Junior Science Odyssey for the first time.
The event, held by Viet Nam for the first time, is among the activities being organised to celebrate the 50th anniversary of ASEAN's establishment.
Odyssey is an annual competition being organised since 2012 for gifted and talented students aged between 13 and 15 years in the science and technology fields, and is aimed at nurturing future scientists and engineers.
As many as 120 students participating in the event come from ASEAN+3 nations, along with Sweden and Taiwan (China) as guests.
The event primarily consists of a poster exhibition, a laboratory skills competition, field exposure and project pitching. The host country has the task of finalising the specifics of each activity, including the theme, topic, rules and mechanics.
With the aim of nurturing gifted students in the sciences from the ASEAN region and from other countries, the ASEAN+3 Centre for the Gifted in Science (ACGS) based in the Republic of Korea, organise the competition in co-operation with ASEAN-member countries  as well as China and Japan.
According to Nguyen Khac Thanh, rector of FPT University, the event fosters students' interest in science and technology and creates a playground for them to express their creativity. It is also an opportunity for international students to exchange experiences in scientific research and enhance their keenness on exploring knowledge.
Last year's event, themed "Climate Change and the Rainforest," was held in the Philippines.
The event will end on July 15. 
VNS