Following Viettel, it is now the turn of MobiFone and VinaPhone to join the battle for 4G supremacy as they have just concurrently introduced a number of competitive price plans with slight differences for various 4G packages.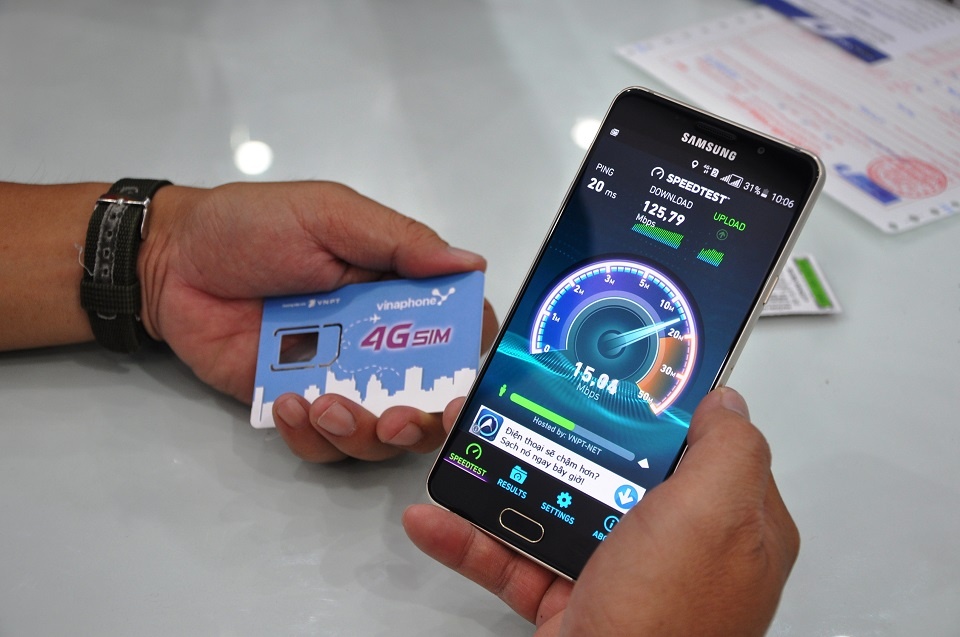 Practically, in almost every announcement of a new mobile plan, carriers uniformly claim that their 4G rates are "the cheapest," "the most attractive" or "the most affordable." This basically implies that price is the leading factor for service providers to gain competitive advantage.
While the representative of VinaPhone declared: "VinaPhone is the network operator which offers the cheapest monthly data packs for both 3G and 4G services in Vietnam today," MobiFone's representative said: "At present, MobiFone's high-speed data packages are highly attractive in the market."
Meanwhile, deputy general director of Viettel Hoang Son sent out an invitation message that Viettel's 4G tariffs only cost 40-60 per cent of its 3G tariffs. "We will also design more flexible packages for customers to enjoy services at the most reasonable costs," Hoang Son said.
Apart from competing implicitly with other rivals in the 4G race through attempts to launch packages with lower prices, operators also seek to embed their own identity and distinctive features on the packages.
For VinaPhone, it is the provision of alternate 3G and 4G plans, combined with some of "the most attractive" data add-ons on the market. Given the launch of such packages, ranging from VND15,000 to VND35,000, users will receive 500MB to 2GB extra data correspondingly, regardless of their primary packages.
As MobiFone leaders revealed, from mid-July 2017, MobiFone will simultaneously deploy various content packages on its high-quality 4G platform, such as "data plus" packages – using data services as the core utility while providing voice plans as extra benefits; data packages which enhance customer experience, for example the 4G IP data pack or Fim+ pack, with flexible and diverse music, sports, movies, mobile games, healthcare, and education-related content to meet every user's demands. At the same time, the operator will introduce several services to serve the purpose of building an e-government in Vietnam.
In particular, MobiFone will be the first Vietnamese corporation to cooperate with major service providers in the world, such as Google, Facebook, iFlix, YouTube, Fim+, to develop and exploit fully-copyrighted content in order to provide users with distinctive experience in terms of data speed and service quality.
Recently, Viettel has also developed a series of 4G plans specifically for the needs of socialising on Facebook or watching YouTube at "super cheap rates." These 4G packages facilitate users' access to Facebook on a daily, weekly or monthly basis: 4GFB1 (VND3,000 per day) and 4GFB7 (VND15,000 per week) provide unlimited access, and 4GFB30 (VND30,000 per 30 days) provides 20GB to access Facebook for 30 days.
In order to watch YouTube videos via 4G technology, customers can choose one of three packages (4GYT1, 4GYT7 and 4GYT30). Prepaid customers will get 3GB to access YouTube for only VND10,000 per day, while post-paid customers can receive unlimited data caps for the same rate.
The VND30,000 VND package offers prepaid customers 9GB for YouTube for seven days and unlimited data caps to post-paid customers. When purchasing the VND100,000 package, prepaid customers will have 30GB to access YouTube for 30 days, while post-paid customers can enjoy unlimited data caps over the same period.
Can it be cheaper?
Considering the most basic data plan offered by the three network operators, which is priced at VND70,000 per month, 4G tariffs in Vietnam are currently hovering around $1.5/1GB, belonging to the low-price category in the world. As for specific packages, such as the deals of Viettel, 4G rates in Vietnam are some of the cheapest data plans in the world.
Therefore, it is fairly difficult for service providers to cut the price of 4G services, as it must be based on the cost of each 4G investment they deploy.
VinaPhone and MobiFone can continue to reduce their data rates because they are not considered as incumbent enterprises in the market. However, they will be bound by price constraints, as they will suffer losses if they drop prices too low. Viettel is in a more difficult situation since they are restricted from offering cheap or super cheap plans due to network regulations on incumbent operators with dominant market shares.
At a recent meeting, Minister of Information and Communications Truong Minh Tuan requested the Departments of Telecommunications to lead a study to promote the development of content services based on 4G platforms. Besides, research will also be conducted to design policies on the management of telecoms and 4G tariffs in line with market developments.
"The rates must be decided by the market and considered in light of the regulations of each country. We also need to consider whether the current regulatory regime applied in Vietnam is appropriate. Operators must also adopt relevant policies to promote the development of post-paid subscribers and adjust the policy for managing international inbound roaming charges properly," the minister emphasised.
VIR