VietNamNet Bridge - The plan to have 1,000 MW of wind power by 2025 will depend on the government's policies and electricity prices.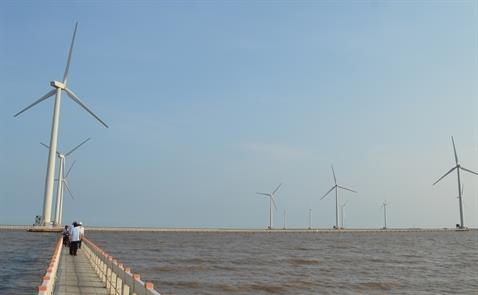 General Electric (GE), Mainstream Renewable Power and Phu Cuong Group are joining forces to run the Phu Cuong wind power farm with the capacity of 800 MW in Soc Trang province.
The three-party agreement worth up to $2 billion was signed in early June 2017 and witnessed by PM Nguyen Xuan Phuc and US Secretary of Commerce Wilbur Ross during Phuc's visit to the US.
A WB report says that Vietnam has the greatest potential for wind power development in the region. Its wind reserves are estimated to be 513,360 MW, six times higher than the total electricity output, by 2020.
The report also shows that 8.6 percent of Vietnam's mainland has favorable conditions for installing large turbines. The figures are 0.2 percent for Cambodia, 2.9 percent of Laos and 0.2 percent for Thailand.
According to MOIT, 50 wind power projects have been registered in Vietnam, but only four, with the total capacity of 159.2 MW, have become operational.
The plan to have 1,000 MW of wind power by 2025 will depend on the government's policies and electricity prices.
These include the Bac Lieu Wind Power Plant developed by Cong Ly Construction, Trade & Tourism, the 30 MW Tuy Phong Wind Power Plant in Binh Thuan province developed by REVN, 6 MW Phu Quy Wind Power Plant and the 24 MW Phu Lac Plant.
In the last 20 years of investment in Vietnam, GE has been making turbine components to sell in the global market. The factory in Normura IZ in Hai Phong City is believed to be one of the most effective of the group.
The main product of this plant is 60 Hz wind turbine generator and other wind power equipment for export to the North American market with the capacity of 1,000 - 1,500 generators per year. It produces 50 Hz generators for the Vietnamese market.
Investors still waiting
Analysts say investors hope PPAs (power purchase agreement), contracts between electricity generators (sellers) and those which purchase electricity, will be signed soon. 
They expect to have clear information about FIT, and when the government will buy electricity.
The plan to raise the wind power purchase price was submitted by MOIT to the Prime Minister in November 2016 as confirmed by Pham Trong Thuc from MOIT. However, investors are still waiting for the new wind power prices to be approved.
Andres Isaza, vice president of GE Renewables, said a PPA with transparent prices will allow investors build up their business plans and help Vietnam attract investors and bankers to the important field.
RELATED NEWS
Vietnam's plan to develop 800 MW wind power delayed
Wind projects offer promising future
Kim Chi