VietNamNet Bridge – A salary "bubble" is forming in the IT sector, posing challenges to employers, a workshop heard in HCM City yesterday.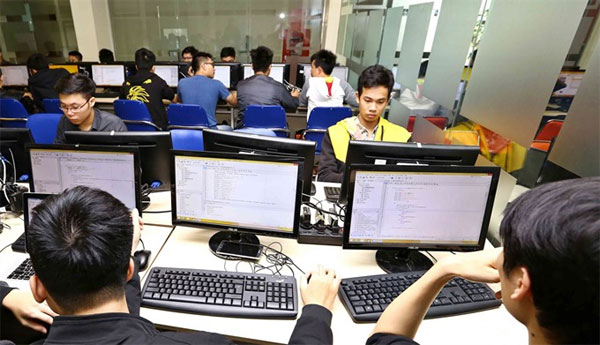 A JAVA programming class at Ha Noi's FPT University. 
Startups had hired these people at salaries many times higher than the industry standards, creating a salary bubble, according to Nguyen Phuong Mai, managing director of Navigos Search, a leading executive search and management consultancy company.
"The fourth industrial revolution is inspiring IT startups, pushing up human resources demand and salaries," Mai said.
Start-ups need many employees to develop their business, and to attract human resources they offer "too high" salaries, according to Mai.
The salaries of 20-25 per cent of IT specialists are higher than that of IT project managers.
The consequence is that many IT engineers and specialists quit their existing jobs and move to work for start-ups.
There is a keen competition for human resources even among non-start-ups in the sector.
They offer many benefits such as overseas travel focusing on motivation and recognition.
One in four IT professionals gets free training from their companies and more than half also get training in non-technical subjects like English and leadership.
"Job switching is causing a shortage at the mid-management level," she said
Mai said the annual IT demand is for 80,000 people while the number of students graduating is only 30,000.
According to Lam Quang Vu, deputy head of the IT faculty at the HCM City University of Sciences, IT companies routinely call for increasing the number of students admitted every year, but it is difficult to do it.
Last year it enrolled 1,056 students to its university and college IT courses.
New graduates get an average salary of VND8-9.5 million a month, higher than the amount earned by students from other faculties at the university.
Within three year the salary rises to nearly VND18 million.
Mai said: "The shortage of labour supply causes a loss of competitive advantage. International companies choose India or China to invest in ICT rather than Viet Nam."
She suggested that IT companies, human resource training facilities and the authorities should closely co-operate with each other to puncture the bubble and address the shortage.
The workshop was held by Viet Nam IT Outsourcing Alliance. 
VNS