Quang Trung Software City in HCM City said it had been ranked third out of eight software parks in Asia evaluated by KPMG.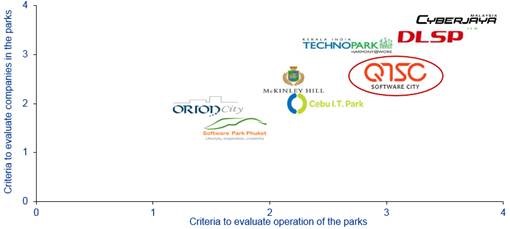 Lam Nguyen Hai Long, QTSC's CEO, said despite being the leading software park in Viet Nam, its management had been unsure about its ranking in Southeast Asia and Asia.
So it commissioned KPMG to assess its comparative status against technology parks in other countries such as Dailian Software Park (China), Technopark (India), Cyberjaya (Malaysia), Cebu IT Park (the Philippines), and others.
The study was based on indicators such as occupancy rate, quality of supporting services and onsite infrastructure.
KPMG compiled another list based on a tenant-centred analysis, and QTSC was fourth in it. This considered attractiveness for foreign investors, number of companies located in the park, quality of human resources and other factors.
QTSC scored well in terms of its investment incentives, presence of tenants from various industries and their sustainable growth, Long said.
KPMG polled selected companies in QTSC, and most companies were satisfied with the telecom infrastructure, value-added services and facilities, and wanted the park to improve trade promotional activities and onsite support services.
Established in 2001, the 43ha QTSC has an occupancy rate of 88.2 per cent.
Its tenants are mostly IT companies, with foreign companies accounting for nearly half, many from countries such as Japan, Germany, and the US.
The park had originally targeted to become one of Asia's top 10 software parks by 2020. 
VNS