VietNamNet Bridge – Dr Vu Anh Tai is a well known man now, especially after his recent selection as one of the nation's role models.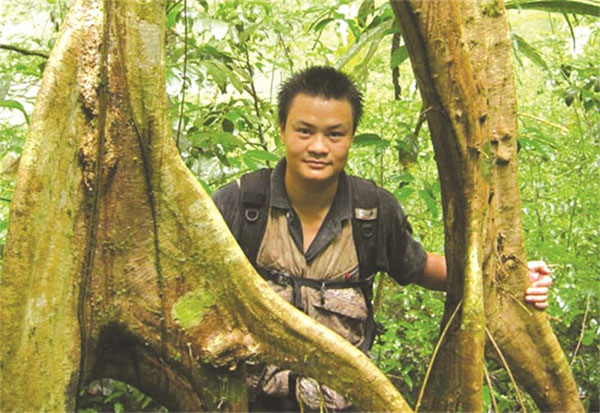 Dr Vu Anh Tai on a field trip to the Son Doong Cave in the central province of Quang Binh. 
However, not many people are aware of the really difficult struggles that the biologist, credited with discovering seven new plant species and two new genera, has experienced to get to where he is now.
He began his career as a biologist with a monthly wage of VND300,000 (US$13). He had to use this money not only to meet the most basic of his needs, but also for his scientific research.
Soon after he graduated with distinction from the University of Science under the Viet Nam National University, he got his first job at his alma mater's.
Although he was virtually penniless, the young man from poor, rural Thai Binh Province, northern Viet Nam, managed to make ends met in the capital city for over five years. Throughout this period, his passion never dimmed and he kept finding ways to do his work.
"I worked several other jobs to keep my research dream alive. Whenever I saved some extra money, I backpacked to explore, researching and looking for new plants," he said.
A well deserved break finally came to him in 2007 as he was accepted to work at the Institute of Geography in the Viet Nam Academy of Science and Technology, offering more opportunities to pursue his dream.
Now, Tai holds his institute's record of making the most number of trips to the Fansipan Mountain, and, as noted earlier, has discovered seven new plant species and two new genera.
His discoveries along the Hoang Lien Son Mountain range in the northern province of Lao Cai – the highest range of Viet Nam – have played a major scientific role in proving plant migration from the Himalayas to Indochina.
Furthermore, Tai has said that he will soon announce the existence of another three new species and one new genus - all belonging to the cyperaceae family – which will clearly show the plant linkage between northern Viet Nam and Sumatra island in Indonesia.
He has also made history as the first Vietnamese biologist to set foot into the world biggest cave, Son Doong, in the central province of Quang Binh.
"It was the largest exploration team I've ever joined in my life, with many famous scientists," he recalled.
"The plants there are nothing new by name, but their ecological features are far different. It is a low tropical forest but having ecological features similar to those of high mountain and temperate areas."
"It is Viet Nam's most special ecosystem," he said with evident excitement.   
The young biologist, 37 this year, has already published 35 scientific papers, some of them with research funded by international organisations like the Forest Trust, the Fauna and Flora International, and the World Wildlife Fund.
"Many people think that doing scientific research is something really impressive, but to me, it's just a passion for new knowledge. I'm happiest when I can do scientific research. There is nothing else I want to do for my whole life."
Tai was honoured as one of the country's 400 role models in a ceremony on Saturday for his outstanding discoveries for Viet Nam and the world's biology science. 
VNS