Prime Minister Nguyen Xuan Phuc has called on Japanese groups and companies to invest in Vietnam, especially in hi-tech and environmentally-friendly projects, when chairing a talk with representatives from 60 local businesses operating in information technology in Tokyo on June 6.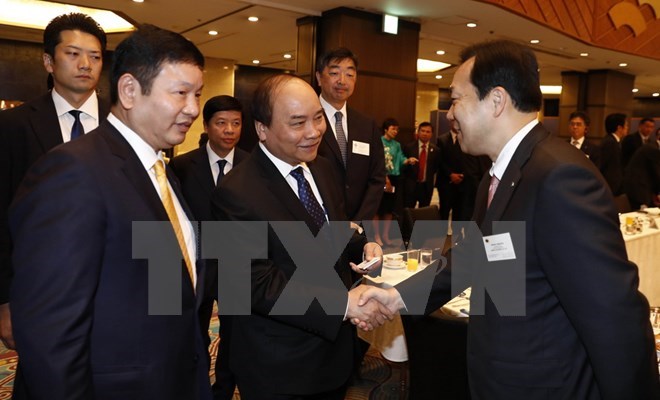 PM Nguyen Xuan Phuc (M) and Japanese business representatives

Vietnam holds advantages and potential in developing IT, agriculture, tourism and human resources improvement, he said, adding that information technology is booming in the country.

In 2015, Vietnam entered Top10 Asian-Pacific and Top 30 world software outsourcing nations. In 2016, its export turnover of mobile phones, computers, cameras and spare parts exceeded 55 billion USD.

About 52 percent of the population are using the Internet and 60 percent of under-35 people quickly get update on new technology, PM Phuc noted.

The Government leader told participants that Vietnam has actively carried out measures to reform institution and law, better the business environment and promote start-up and innovation.

He quoted the Japan External Trade Organisation's report as saying that 90 percent of Japanese enterprises believe in more profits when expanding operation in Vietnam, while 63 percent of businesses earn profits in 2016 and 66.6 percent plan to expand business in the country.

The Government leader took the occasion to invite Japanese businesses to participate in APEC Year 2017 activities in Vietnam, saying that this will be a chance to understand more about Vietnam, expand operation and seek investment opportunities in the country.

At the event, participating businesses shared that they had gained success when running business in Vietnam.

They affirmed to contribute more to the two countries' relations and Vietnam's socio-economic development.

PM Phuc affirmed that the Vietnamese Government and localities will create all favourable conditions for Japanese investors.
VNA