VietNamNet Bridge –  Ngoc Linh ginseng, grown both in Nam Tra My District in Quang Nam Province and the central highlands Kon Tum, has been named a National Brand.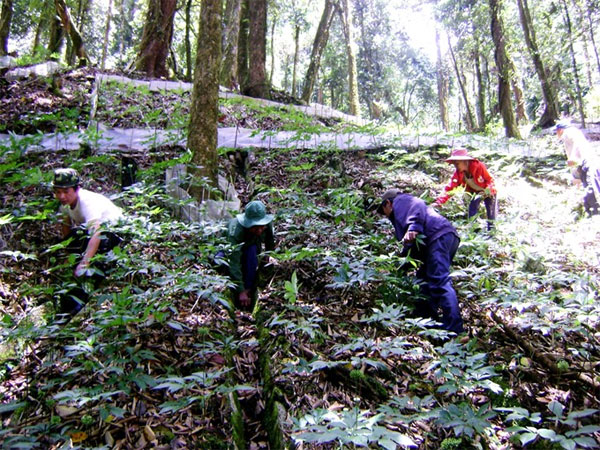 Farmers grow the Ngoc Linh ginseng in a farm in Tra Cang Commune in Quang Nam Province's Nam Tra My District. -- VNS Photo Tran Van Tho
Chairman of Nam Tra My District, Ho Quang Buu confirmed to Viet Nam News yesterday, saying that the recognition will promote ginseng root products in Quang Nam and Kon Tum.
Buu said Ngoc Linh ginseng are often grown 1,400m above sea level, in forests in Nam Tra My District in Quang Nam and Tu Mo Rong District in Kon Tum Province.
He said the national brand will lure more investors and producers to the district in farming, infrastructure, tourism and ginseng trade.
Last year, the ministry of science and technology and the Intellectual Property Agency of Viet Nam recognised the Geographical Indication (GI) of 'Ngoc Linh' (Panax vietnamensis, or Vietnamese ginseng) for ginseng root products in the two provinces.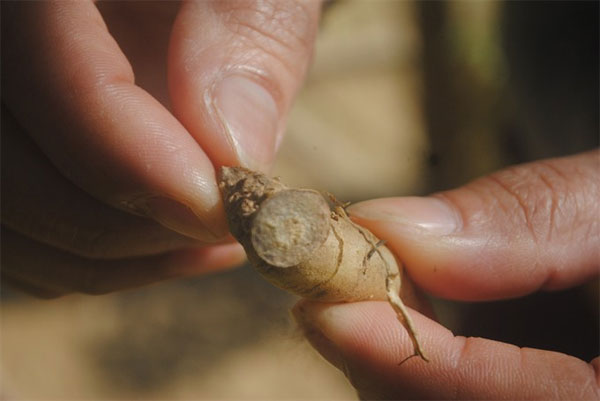 A root of the Ngoc Linh ginseng is harvested at a farm in Nam Tra My District. The ginseng, which is grown in Quang Nam and Kon Tum, has been recognised as a National Brand. VNS Photo Cong Thanh
Ginseng was first found in the late 1960s on Ngoc Linh Mountain in the middle of Quang Nam and Kon Tum provinces.
However, the ginseng has yet to see much investment for mass global export production due to a lack of funds and poor infrastructure in the two provinces.
In February, Nam Tra My District introduced the first Medical Herbs Centre to grow Ngoc Linh ginseng seeds and herb seedlings for farming.
The project is planned on 15,000ha in seven mountainous communes in the district for 2030.
Ginseng has been planted on 70ha by local farmers in the district.
Last year, seven investors agreed to invest $221 million to farm ginseng and process plants of essential oils, cosmetics, tonic drinks and capsules from ginseng in the district.
According to the district, more than 42,000ha of primary forests have been well preserved in development of the ginseng and native herbs.
In 2015, Nam Tra My District and Hamyang County in South Korea signed a Memorandum of Understanding (MoU) on tourism, agriculture, conservation and the development of Ngoc Linh ginseng.
Quang Nam Province has listed the Ngoc Linh ginseng as one of eight precious and endangered flora genes including Ba Kich (poor man's ginseng), pepper, cinnamon, large-size rattan and white corn in the provincial conservation programme in 2014-20. 
Source: VNS