The Viet Nam Software and IT Services Association (VINASA) honoured 64 IT products and services on Saturday that had won Sao Khue Awards.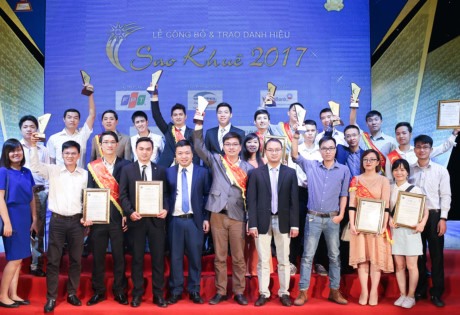 In the three months since the launch in January, the organiser presented awards to excellent products and services, based upon their socio-economic efficiency, brand reputation, revenue and market share, as well as technological innovations.
Prestige Top 10 Sao Khue Awards were given to seven excellent products and three services which achieved large turnover and were effective in solving problems, while further improving Viet Nam's position on the international IT map.
Revenues for the top 10 winning entries reached more than VND12.1 trillion (US$539 million), higher than the software sector's revenue in 2008, offering employment to 16,700 people.
The award was first launched in 2003. Since then, they have been presented to over 669 outstanding Vietnamese products and services. Among the Top 10 was one startup, a positive sign for the potential of startup communities.
Speaking at the ceremony, Deputy Prime Minister Vu Duc Dam said the IT sector had contributed significantly to the country's socio-economic development.
"The community has been facing a glorious but challenging mission to exploit potentials and advantages for the country's rapid and sustainable development, as well as escaping from the average income trap," Dam said, adding that the IT community should have breakthroughs in development that were greater than those from 15 to 20 years ago.
He noted that the broadband infrastructure should cover all mountainous, remote and rural areas. Notably, Viet Nam plans to soon launch its 4G network, thus further serving the nation's development.
He added that IT applications should be created for all services to improve transparency and efficiency. He urged a breakthrough in education and training of IT human resources in the shortest time to increase the number of people working in the sector, to double or triple the number from the current 300,000.
"Is it time for us to "obliterate" the knowledge of technology so that in the shortest time all Vietnamese people must be equipped with necessary knowledge to contribute to the country's growth," he said, adding that VINASA and the Viet Nam IT community should be brave, intellectual and enthusiastic.
The Deputy PM also lauded the contribution of VINASA and entrepreneurs for the IT development and the country's economic growth during the past 15 years.
VINASA has 350 member enterprises, accounting for 60 per cent of IT human resources and 70 per cent of the sector's total revenues. 
VNS