Vivu Technology Development Joint Stock Company said at its launch ceremony on Sunday it has acquired Vietnamese car hailing service application FaceCar for an undisclosed amount.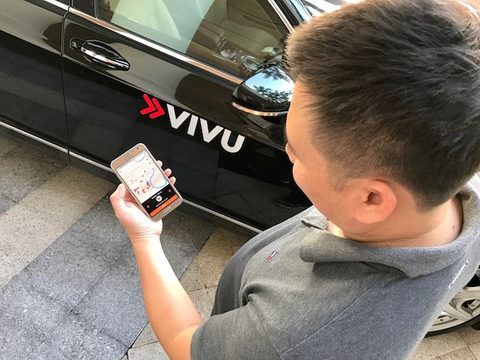 Following the deal, FaceCar, developed by Tran Van Nam, has changed into Vivu, which is expected to grow and compete with Uber and Grab in Viet Nam.
Nam will continue to hold a founding chair on the management board of 13 members and be in charge of developing Vivu products.
Nam said Vivu will enable users to hail different types of vehicles -- from motorbikes, taxis and cars to buses.
Under the Vivu platform, users will have the right to fix prices through a direct price negotiation feature, which is different from rival platforms such as Uber and Grab, in which service providers decide the prices, according to Nam. In addition, Vivu allows users to choose drivers.
Nam said currently, there were some 2,000 vehicles providing services in HCM City via the Vivu platform, a modest figure.
Vivu is providing services in major cities and provinces, including Ha Noi, HCM City, Can Tho and Nghe An.
However, the founding shareholders were optimistic about its development potential.
Nguyen Phan Hoai Xuyen, chairwoman of Vivu, said a significant financial sum must be poured into developing Vivu to enable it to compete with Uber and Grab in Viet Nam.
"I see the huge development potential of Vivu, a Vietnamese car hailing application," chairman of Venus Entertainment Company Vu Khac Tiep, said.
Tiệp, who is a founding shareholder of Vivu, wrote on Facebook: "In the coming time, Vivu will strive to become an Uber or Grab of Việt Nam, although there will be a lot of difficulties and challenges."
Vivu, previously FaceCar, was born in mid-2016. In early March, the application rocked the startup community after announcing it would receive US$1 billion investment from an overseas Vietnamese from Germany, Mai Vu Minh, the largest fund for a Vietnamese startup ever. However, FaceCar's founder, Nam, announced on March 18 on Facebook that the company was terminating the cooperation with Minh following signs of a scam.
Website FaceCar.vn was still active on Monday. Upon clicking download buttons on the website, it linked to the download of the Vivu application on Google Play for Android and on App Store for iOS. 
VNS