Vietnam has joined other 35 countries in the Langkawi International Maritime and Aerospace Exhibition 2017 (LIMA 217), which opened at Mahsuri International Exhibition Centre, Langkawi, Malaysia on March 21.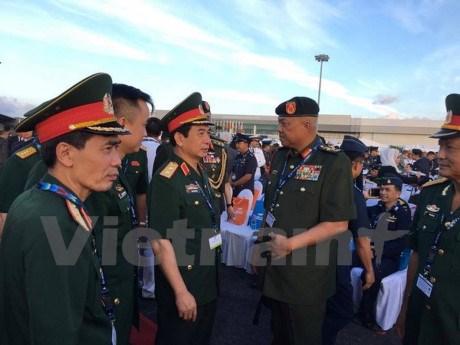 Vietnam delegation at the exhibition
The Vietnamese delegation is led by Lieutenant General Phan Van Giang, Chief of the General Staff of the Vietnam People's Army.
With the participation of 550 enterprises, including top arms-producing companies like Lockheed Martin, Boeing, Airbus and Thales, this year event is considered to be the biggest ever.
Unmanned aerial vehicles (UAV) and autonomous underwater vehicles (AUV) will be displayed at the exhibition for the first time.
According to the organising board, ASEAN Aviation Summit, Air Chiefs Conference and Chief of Navy Roundtable Talks will be included in the event.
The frigate HQ-011 Dinh Tien Hoang left Vietnam on March 15 to attend the five-day event for the first time.
The ship participates in LIMA 2017 with 140 officers and crew members on board, the Quan Doi Nhan Dan (People's Army Newspaper) reported. The participation is to show the determination and consistent viewpoint of the Party, State, and army to international integration and cooperation.
It also aims to enhance relations between the Vietnam People's Navy with its counterparts from the host Malaysia and other Asian nations and help ensure regional maritime safety and security.
HQ-011 Dinh Tien Hoang is scheduled to take part in the event's ship review and maritime demonstration alongside several exercises, including a rescue operation.
Held biennially since its debut in 1991, LIMA is an ideal platform where industry stakeholders could engage and expand their networks towards forging new partnerships and business agreements. Its insightful round tables and conferences as well as business forums offer access to invaluable information that enables businesses to stay ahead of the competition and seize new opportunities in the dynamic market of Asia Pacific.
VNA