"Big Vietnamese information technology (IT) and telecommunications corporations will become major and reliable partners to Angola if they are given favourable conditions."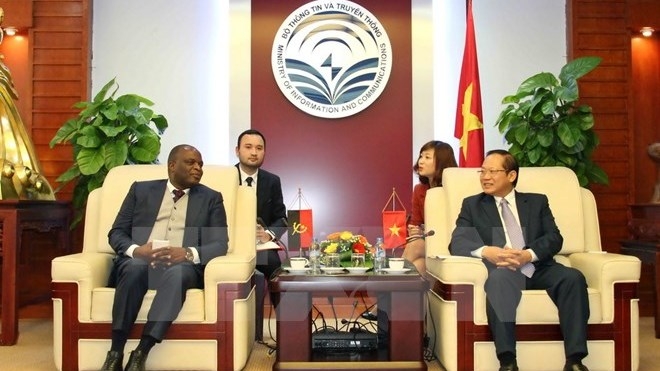 Minister of Information and Communications Truong Minh Tuan (right) and Angolan Minister of Telecommunications and Information Technology José Cavarlho de Rocha.
Vietnamese Minister of Information and Communications Truong Minh Tuan made this statement at a working session with the delegation of Angolan Ministry of Telecommunications and IT in Hanoi on March 13.
The event aimed to seek opportunities to promote investment co-operation in the field of telecommunications and IT.
Speaking at the working session, Minister Tuan emphasised that Vietnam's IT industry has strongly developed, earning a turnover of around US$41 billion in 2016.
Vietnam aimed to develop domestic telecommunications and IT enterprises with international-level capital, technology and management staff.
So far, the Military Telecommunication Corporation (Viettel) has invested in ten countries around the world, and it wishes to enter some other markets, including Angola. 
In addition, big telecommunication firms, including VNPT and FPT, are seeking opportunities to expand their investment to Southeast Asia, Middle East and African region.
Minister Tuan appreciates the position and role of Angola in Africa in general and Southwest Africa in particular, with great potential for the development of telecommunications and IT.
For his part, Angola's Minister of Telecommunications and IT José Cavarlho de Rocha has expressed his hope that his delegation would have many chances to meet with Vietnamese enterprises and partners to discuss the opportunities for Vietnamese telecommunications in Angola.
The two ministries wished to join efforts to build common plans for deep co-operation, bringing benefit for both sides.
At the meeting, the Angolan Minister also affirmed the responsibility of the two ministries in maintaining and promoting the relations between Angola and Vietnam.
On the same day, Deputy Minister of Information and Communications Phan Tam, along with representatives of domestic mobile operators and IT enterprises, worked with the visiting delegation from Angola.
Nhan Dan