As part of plans to improve the startup ecosystem in the country, Vietnamese universities are developing student innovation and startup programmes.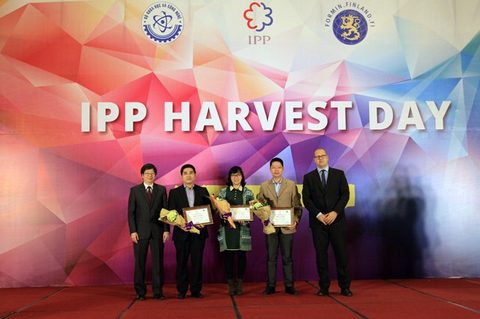 Lecturers from local universities received certifications for completing the Training of Trainers (ToT) programme, a part of the Viet Nam-Finland Innovation Partnership Programme Phase 2 (IPP2). 
The universities are being sponsored by the Viet Nam-Finland Innovation Partnership Programme Phase 2 (IPP2).
The announcement was made at a ceremony held on March 10 to review the progress of IPP2, which is a co-operative development programme between the governments of Việt Nam and Finland.
The programme will also help local universities develop their own startup and innovation ecosystems, including projects that integrate universities and innovation-startup joint ventures.
Universities that are qualified for IPP2's funding include Foreign Trade University, Ha Noi University of Science and Technology, Đà Nẵng University of Science and Technology and Hue Industrial College.
During 2017-18, the programme will also focus on transferring results, practices, experiences and models on supporting startup and innovation ecosystems to Vietnamese partners to make sure the programme will be continued in a sustainable way. This will also help transform the partnership between Việt Nam and Finland from providing aid to exchanging trade.
At the ceremony, 35 lectures from 12 local universities and education establishments were granted certificates for completing the Training of Trainers (ToT) programme to become "source lecturers", who are expected to improve the training of innovation and startup business at their universities.
The programme has been carried out over the last two years by Finland's Ministry for Foreign Affairs and Việt Nam's Ministry of Science and Technology, and is projected to end in 2018.
Programme director Trần Thị Thu Hương said during the ceremony, "IPP2 has taken the leading role in testing new models in training, developing and supporting innovation and startups in Việt Nam in the past two years.
"The programme is expected to develop a healthy, innovative startup ecosystem in Việt Nam to support local businesses to achieve strong growth, so they can contribute to the country's sustainable development."
An IPP2 study group introduce their project to participants at the ceremony on March 10. - Photo Ministry of Science and Technology
IPP2 has successfully tested the funding model based on two stages, provided with Finland's 'soft support' in consultancy and training, Hương said.
IPP2 has sponsored 32 projects focusing on innovative startup businesses and startup ecosystem development, and some of these businesses have been allowed to proceed to the second stage of advance sponsorship, she said.
Those accepted projects will provide automatic marketing applications for e-commerce websites, large-scale data analysis, as well as booking and hotel management systems.
A typical project funded by IPP2 is the creation of non-thermal plasma technology, which was developed by Đỗ Hoàng Tùng and Nguyễn Thế Anh for the Việt Nam Plasma Technology JSC. The project was sponsored by IPP2 in 2015 and was voted one of Việt Nam's top 10 science-technology events in early 2016.
The technology was certified by the Ministry of Health to be available for use in hospitals and clinics in 2016 and helped make Việt Nam one of the first countries to use non-thermal plasma technology in its health services.
According to Deputy Minister of Science and Technology Trần Quốc Khánh, the Vietnamese Government has been strongly committed to enhance the system of innovative startup businesses and sees it as an important solution to increase the quantity and quality of local businesses.
He added that his ministry has tried to work with other ministries to develop and synchronise policies that are required to support startup businesses and their operations.
So far, the Government has initiated many programmes and projects to help develop and assist local startup businesses investing in technologies and funding for the startup community, he said. 
VNS