VietNamNet Bridge - In early 2017, PHI Group, an investor from the US, unexpectedly announced the purchase of a 51 percent stake of Hoang Minh Chau, called the 'curcumin King' of  Khoai Chau area in Hung Yen province. The value of the deal remains a secret.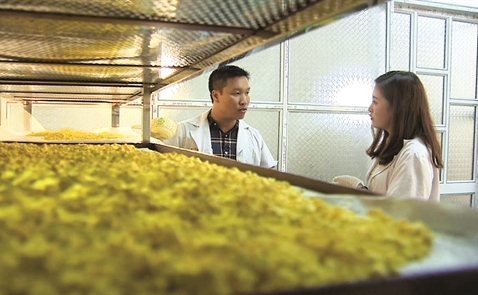 Analysts believe that the main purpose of PHI Group in the deal is accessing the turmeric growing area and taking full advantage of Hoang Minh Chau brand to build a production chain that makes high-quality curcumin and turmeric-made products in accordance with organic standards.
One kilo of fresh turmeric sells for for VND20,000, but curcumin can be sold for a price 50 times higher. 
One kilo of fresh turmeric sells for for VND20,000, but curcumin can be sold for a price 50 times higher. 
Turmeric is one of the specialty varieties planted throughout the country. However, according to the Vietnam Academy of Science and Technology, the red turmeric in Khoai Chau area along the Red River is the best in the country in terms of size and curcumin content thanks to the ideal soil conditions.

Turmeric is not only used as a spice in cooking but also as a medicine for stomach pain, cleansing the digestive system, purifying toxins and increasing resistance. It can also be used as a skin product and perfume.

In 2013, the Vietnam Academy of Science and Technology stated it now can make curcumin with nanotechnology, praised as a great achievement in modern technology, because curcumin has been found as an active element for next-generation anti-cancer substances. 

However, it is not an easy job to extract curcumin from fresh turmeric. Fresh turmeric only contains 3 percent of curcumin, while the other substances are acids, essential oil, heavy metals and other impurities. 

Hoang Minh Chau spent big money to install a modern production line to extract curcumin in accordance with VietGAP standard.

Every year, Hoang Minh Chau launches 400-500 tons of turmeric-made products into the market, including 10-15 tons of curcumin powder. 

The products are not only sold in the domestic market, but also exported to Europe, India, France, South Korea, China, Taiwan and the Middle East. It is estimated that the company earns revenue of VND40-50 billion with net profit margin of 8-10 percent.

The presence of PHI Group as a big shareholder will help Hoang Minh Chau approach to more markets in the world. 

A survey by Global Market Insight showed that as people are paying higher attention to health, the curcumin market may have value of $99.3 million by 2024.
RELATED NEWS
Pioneer scientists make cancer leap
Asian spice may extend lifespan of humans: study
Kim Chi