An overseas Vietnamese businessman will invest US$1 billion in Facecar, a Vietnamese car-hailing startup, according to local media.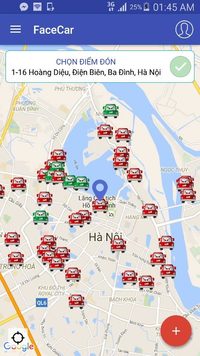 The Facecar app interface. 
The domestic technology community spread information about a Vietnamese-German billionaire returning to Viet Nam to seek investment opportunities in Vietnamese startups. The billionaire is reported to be Mai Vu Minh.
A representative of the investor told local media that after evaluating potential and analysing public transport enterprises and the demand for taxis, Uber and Grab in Viet Nam, the billionaire decided to invest in the car-hailing start up.
The representative also said that Facecar had coordinated with German technology experts to complete the car-requesting feature to soon expand business scale and determine to take the market share in Viet Nam.
The car-hailing application has similar features to Uber and Grab. These applications all help customers request cars, however, Facecar's clients can choose drivers bytelephone or using favourite driver lists.
The application has been developed by Tran Thanh Nam. Facecar can be downloaded from Google Play or iOS App Store. Customers or partners can find information about Facecare through facecar.vn.
The application has provided services in four cities and provinces including Ha Noi, HCM City, Can Tho and Vinh. 
VNS