VietNamNet Bridge - Internet TV has potential but there are many risks. Producers face copyright infringement and competition from international apps.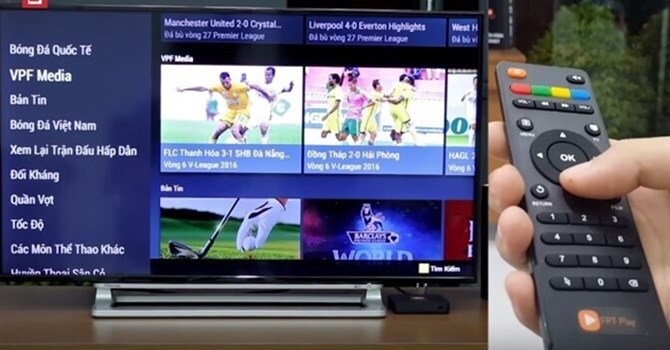 Reports all show a sharp decrease in the number of TV viewers in 2011-2016. Nielsen said the time for watching TV of the group of people aged 25-34 decreased by 25 percent, while the sharper decrease of 37.9 percent is reported for younger people.
However, while traditional TV is meeting big difficulties, internet TV has great potential to develop. TV viewers now want to take initiative in choosing the content in accordance with their tastes, instead of depending on television companies' schedules.
Phan Thanh Gian, managing director of Clip TV, believes that internet TV will be the future of the world's broadcasting. 
"With the rapid development of internet services, especially the transmission speed, and the growing tendency of watching films on demand, the online TV market has become  bustling in Vietnam," Gian said.
Hindrances
The two biggest difficulties internet TV is facing are competition from foreign service providers such as Netflix, Amazon, Hulu and iflix, and problems caused by domestic brands.
In general, domestic internet TV allows users to watch TV and videos on demand. Domestic brands including Clip TV, FPT box, Smart TV box and Next TV all have problems in content stores and copyright.
In order to satisfy high demand for films, producers have to update new content programs, and therefore, have to solve questions about copyright. 
Gian said most domestic companies take losses because they are still weak at technology, royalties and marketing.
Vietnamese have the habit of watching film for free as unlicensed films are shown on many illegal websites. Meanwhile, the financial capability of the companies providing copyrighted content is limited.
The future of internet TV
In the broadcasting industry, internet TV is the next development stage. However, in a market with smart TV, tablets and smartphones, internet TV might not be the best choice for users.
It's still early to say if internet TV will succeed in Vietnam, analysts say. This will depend on how manufacturers access the Vietnamese market.
They are not only trying to expand content stores, but have begun approaching the copyright issue in a serious way. 
New devices which serve specific demands of different groups of users have been marketed. These include the app for visually-impaired people provided by Clip TV and ABC Play for children by FPT Play.
Le Ha