To celebrate Safe Internet Day, authorities held a symposium on digital citizenship toward a safer Internet in Hanoi on February 22.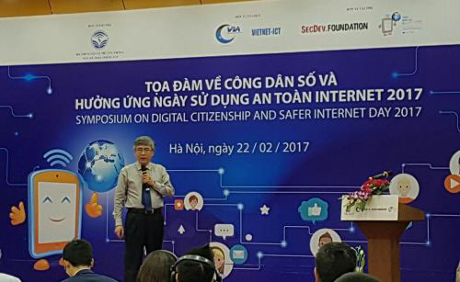 Nguyen Thanh Hai, director of Authority of Information Security under the Ministry of Information and Communications (MIC)
The symposium was co-organised by the Vietnam Internet Association (VIA), VietNet Information Technology and Communication Centre (VietNet-ICT) and SecDev Foundation.
Over the years, Safer Internet Day (SID) has become a landmark event in the online safety calendar. Starting as an initiative of the EU SafeBorders project in 2004 and taken up by the Insafe network as one of its earliest actions in 2005, Safer Internet Day has grown beyond its traditional geographic zone and is now celebrated in more than 100 countries worldwide, and across all continents.
Vu Hoang Lien, VIA chairman praised the internet for its contribution for the growth of countries, citing Vietnam's remarkable growth in e-commerce and other socio-economic sectors and industries.
"However, Vietnam faces many difficulties and challenges on the Internet and in IT infrastructure, human resources, information security and cyber safety," said Lien.
Nguyen Thanh Hai, director of Authority of Information Security under the Ministry of Information and Communications (MIC), emphasised risks and negative impacts of the Internet's growth, including intellectual property, technology theft, copyright infringement and cyber espionage, which are all becoming more complicated and dangerous.
In addition, many exploit the Internet to spread false or unverified information to slander individuals, organisations or brands, he said.
"The internet has become a driving force for development, but it also must be transition into a more  clean and pure environment," the director said.
"Digital citizens should aim for a just, equal and civilised Internet environment in Vietnam."
Hải also showed his welcome towards the initiative and affirmed that Vietnamese authorities will protect citizens, organisations, enterprises on the web.
"The MIC will continue to develop and complete Internet laws and regulations, ready to apply Internet security best practices and use international resources in order to receive international rescue when needed," he added.
Statistics form the Authority of Information Security showed that 53% of the Vietnamese population uses the internet. The country also ranked at 16th place in the top 20 Internet users in Asia.
However, the Information Security Index of Vietnam 2015 (VNISA Index 2015) was only 46.4%, under the average. Last year, Vietnam also saw series of events on Internet security such as hacking to systems of big banks and airports.
VNS