Vietnam is Cisco's fastest growing market in the Indochina region. As she celebrates her second year as general director of Cisco Vietnam, Luong Thi Le Thuy talked about her experience leading Cisco Vietnam at this exciting time as well as Cisco's role in helping Vietnamese companies and the government become more competitive as the world undergoes a digital transformation.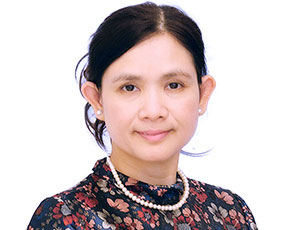 After two years of leading Cisco Vietnam, which achievements are you most proud of?
The thing I am most proud of is building a team which works with me to bring such success to Cisco Vietnam. I believe that with unity we will grow even more in 2017 and the years ahead. Second, I have built a network of more than 500 partners in Vietnam who act as our extended arms to bring Cisco's technologies and solutions to the market.
Thanks to our combined efforts, Vietnam is Cisco's fastest growing market in the Asia-Pacific and Japan region. As Vietnam grows, opportunities are numerous, but so are the challenges. How can we build a strong base for Cisco to grow faster too? This is our challenge and also our goal.
As the world undergoes the fourth industrial revolution, what technologies does Cisco provide in Vietnam to help the government and companies transform?
We bring our newest offerings with the aim to help the Vietnamese government and companies carry out their digital transformation successfully. Our technologies can be categorised into four areas. First is digital network architecture, which allows companies to innovate faster and simplify their operations, while decreasing risks. Second are solutions in terms of data centres, cloud, and analytics. Third are collaborative solutions that allow companies to change the way they operate and exchange information. Fourth are security solutions that protect companies in the digital environment.
As they go about their digital transformation, how can Vietnamese organisations protect themselves from digital attacks?
Security is always the most prominent concern of organisations and it is getting increasingly important in the digital age. Security is also Cisco's priority in all its solutions.
To protect themselves, companies should increase their security capacity in terms of three factors: people, procedures, and solutions.
Through training, companies can raise employees' awareness of security; through improving procedures, companies can know what to do in the case of a crisis; and finally, security solutions will provide companies with comprehensive protection.
Cisco's security offerings can protect an organisation before, during, and after an attack. With the digital network architecture and security solutions provided by Cisco, customers can know what is happening across their entire network and use global threat intelligence to make better decisions, faster.
Our solutions allow network operators to stop threats before, during, and after attacks, through network security solutions and extending security everywhere across more attack vectors. With Cisco's design, it is possible to automate security, even after attacks, across physical, virtual, and cloud  to reduce complexity and quickly mitigate attacks.
Cisco and the Management Authority for Urban Railways (MAUR) of Ho Chi Minh City entered into an agreement to conduct a feasibility study on an Integrated Telecommunications Control Centre for Ho Chi Minh City Urban Railways in June 2015. What is your assessment of the potential for smart city solutions in Vietnam?
The prime minister recently emphasised the role of information and communications technology in increasing the country's competitiveness, and his commitment to leverage opportunities from the fourth industrial revolution. The plan to build smart cities in the 2020-2030 period shows a lot of potential.
With experience from deploying smart city solutions in 120 cities over the world – including Dubai, Barcelona, Amsterdam, Chicago and Songdo – Cisco wants to become a trusted consultant to the government and hopes to bring the newest technologies to Vietnam. We are also building our local IT human resources through a network of professional partners so we can transfer technology more effectively and allow our partners to directly support our customers in Vietnam.
In Ho Chi Minh City, we are working with the MAUR to build the Integrated Telecommunications Control Centre for the urban railways. This initiative will not only boost the railway's operational efficiency and management, but also connectivity with other modes of public transport.
We are also working with other big cities and provinces in Vietnam on smart city plans. I hope to be able to share more detailed information in the near future.
VIR