VietNamNet Bridge – A highly prized Vietnamese species, indigenous to the Central Highlands province of Kon Tum, is threatened with extinction, and the Government is gearing up to reverse its decline.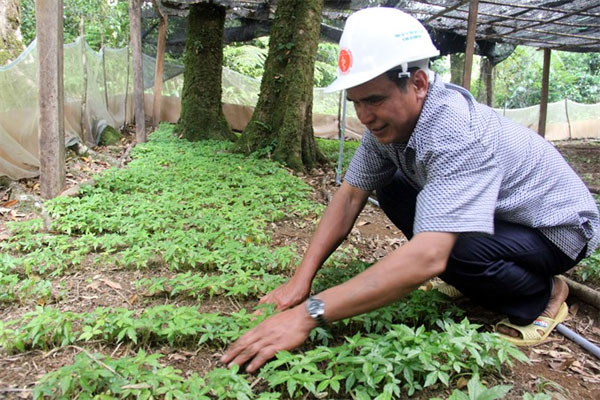 A farmer tends his Ngoc Linh ginseng seedlings garden in Kon Tum Province. -- VNS Photo Hoai Nam
Ngoc Linh ginseng (Panax Vietnamensis or Vietnamese ginseng) was found on the mountain of the same name at an altitude of 2,598m on the border between Kon Tum and Quang Nam Province in the late 1960s. The area is still thought to be the best place to grow the herb.
It was cultivated, turned into a commercial product and was believed to rival Korean ginseng in its medicinal efficacy. It is believed to do everything from boosting the immune system to increasing stamina, protecting liver function, reducing blood cholesterol levels and the risk of cardiovascular diseases.
However, the species has been over-exploited and its scarcity has sent prices sky rocketing - to VND50 million ($2,300) a kilo.
Exhaustion of gene
In the past, people looked for wild roots in jungles and brought them home to cultivate in their gardens. A Hinh, a resident of Te Xang Commune in Tu Mo Rong District, said he used to find ginseng seeds in the wild or bought them from neighbours. He could easily buy 300 grams of seed for VND10-15 million ($440-660).
But things are different now. He blamed increasing demand for the herb for the seed scarcity. "One seed of Ngoc Linh ginseng sells for VND100,000-120,000 ($4.5-$5), and it isn't always available", Hinh said.
To have enough ginseng seedlings, many local residents hoard seeds and grow new trees from branches, but they don't get the desired results.
Hoang Van Chat, deputy director of Dak To Forestry Co Ltd, said the exhaustion of the natural gene source was the biggest challenge in cultivation and conservation of Ngoc Linh ginseng.
According to him, the propagation faces technical and climate problems, such as frost or hail that occurred in recent years, adding that it takes about five years for the plants to yield seeds.
Interloper brands
In 2004, a conservation centre project was launched in the province to preserve and develop the plant with the participation of the local community. An area of 1,000ha. has also been set aside for ginseng growth and cultivation, with the aim of raising the income of local farmers.
In addition to Dak To company, Duy Tan Investment and Development Joint Stock Company has also been engaged in conducting research and propagating the ginseng. But mass production is not expected before 2020, he said.
To make the matter worse, Chat said, some people have brought seeds of other ginseng strains from other regions. He warned that this would affect the native breed as these strains might mix with pure-bred Ngoc Linh ginseng.
Nguyen Hai Nam, head of Tu Mo Rong District's Agriculture and Rural Development Division, said local authorities had inspected a number of ginseng farms but not detected any ginseng "interlopers". Nonetheless, he conceded that it was costly to determine whether a strain was genuine or not by testing, and farmers were thus being warned against growing unknown breeds.
The Ministry of Science and Technology granted geographic indication to Ngoc Linh ginseng in August 2016. 
VNS