VietNamNet Bridge - A new farm produce preservation technology has been invented by scientists from the Hanoi University of Technology. The technology retains the color and active elements of products, requires a short drying time, and does not consume much energy.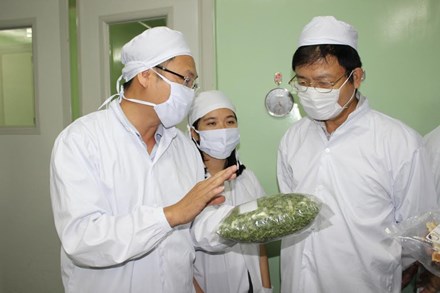 In 2011, Dr Vu Huy Khue from the School of Heat Engineering and Refrigeration (SHEER) belonging to the Hanoi University of Technology and his co-workers set to work on a drying system using heat pump and microwave technology to protect farm produce, food and herbal medicine. 
This is was one of the tasks of the Sate's Science & Technology Program in 2011-2015.
After five years of working hard, Khue and his co-workers have fulfilled their plan. They have mastered a completely new technology in Vietnam applied by Vietnamese businesses to preserve products.
According to Khue, this is a hybrid technology -,between modern farm produce preservation technology – drying technology with heat pump – and drying technology with microwaves.
Compared with other preservation technologies, the drying with a heat pump has a big advantage that it can preserve vitamins and useful organic compounds of fresh products, thus allowing better colors of products than other heat drying methods.
The technology retains the color and active elements of products, requires a short drying time, and does not consume much energy.
Compared with cold storage, the technology allows to preserve products at lower costs and less consume energy. 
And when combining the heat pump technology with microwave technology, the required drying time will be shortened, while the balanced humidity at the end of the drying process will be obtained. 
As such, dried products can have outstanding advantages that all other cold and heat drying methods cannot have.
Khue explained that the hybrid technology which dries products at low temperatures with heat pumps in combination with microwave will take full advantage of both of the technologies: the drying time is shortened (the advantage of microwave technology), while the quality of dried products can be improved (the advantage of heat pump technology).
Besides, the hybrid technology helps save energy significantly compared with using the two technologies separately: the drying time can be cut by half, while the energy needed is 30-40 percent lower. 
More importantly, the hybrid technology dries products with thick coverings.
This is a new technology in Vietnam never invented before by any individual or establishment.
Khai Ha Pharmacy and Medical Equipment Company in Thai Binh City first applied the technology to preserve herbal medicine. 
La Quy Hoang from the company confirmed that the company has found many advantages using the hybrid technology compared with existing technologies.
Meanwhile, Tran Van Phu, a renowned scientist, thinks the new drying technology can be used to protect precious products such as lingzhi mushrooms and Cordyceps sinensic.
Thanh Lich