VietNamNet Bridge - In the past, iPhone dealers could pocket VND6-8 million for every iPhone sold. But the heyday is over.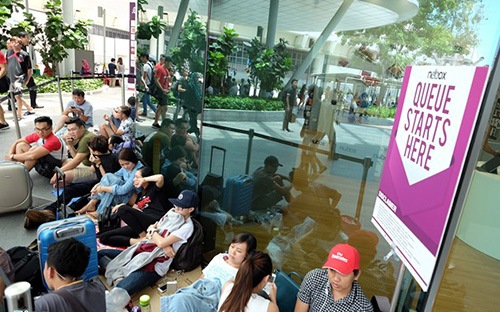 Nguyen Hung, the owner of an iPhone shop on Thai Ha Street in Hanoi, commented that one cannot get rich by trading iPhones.
"The demand for iPhone is still very high. However, since there are too many sellers, the competition is getting fierce and the profit is decreasing," he explained.
Vietnam is not among the markets where Apple launches new iPhones in its first sale campaigns. Therefore, Vietnamese iPhone fans can only buy iPhone from official distributors only several months after the first iPhones hit the world market. 
Those who want to have iPhone sooner can buy iPhones from unofficial dealers, or private shops.
The private shops collect iPhones from other markets, especially Singapore and the US, and bring to Vietnam to sell domestically. 
Those who buy iPhones from the shops won't be able to enjoy the original warranty policies. However, they can have iPhones sooner.
Hung said in the past, the iPhones brought to Vietnam across the border gates could be sold at prices which were 70-80 percent, or sometimes 100 percent, higher than original prices.
With such sky-high prices, iPhone dealers could pocket VND7-8 million from every iPhone sold.
However, things are different now. "It is more difficult to do business now, especially since September 2014, when iPhone 6 was marketed," he said.
"When iPhone 6 hit the shelves in the world market, hundreds of Vietnamese went to Singapore to hunt for the products," he said. "Those who worked and studied in Singapore also queued up to buy iPhone for reselling for profit."
 In the past, iPhone dealers could pocket VND6-8 million for every iPhone sold. But the heyday is over.
As there are more suppliers, the selling prices have been forced down, which means lower profits for dealers – VND2-3 million per product instead of VND7-8 million.
TN, another iPhone dealer on Cau Giay Street in Hanoi, said there were up to 300 Vietnamese people queuing in front of Somerset shopping mall on Orchard Street in Singapore to buy iPhone 7 several days ago, and most of them were dealers.
He said every Vietnamese could buy 4-5 iPhone 7s, while some people bought 9-10 products.
The plentiful supply of iPhone 7 has caused the prices to drop dramatically. Observers predicted that the first iPhone 7 32GB and 128GB available in Vietnam would be sold at VND24.99 million and VND27.99 million, respectively. However, the real prices were VND1 million lower than predicted.
The prices fell by VND4-5 million just two days later, and dropped further after 10 days. iPhone 7 has seen the price fall by VND5-7 million while iPhone 7 Plus fell by VND3-5 million.
Nam Chi