VietNamNet Bridge – Cancer claims the lives of more than eight million patients and affects millions of families worldwide every year, according to the American Cancer Society and the National Cancer Institute of the USA. Approximately 14 million new cases are diagnosed annually around the globe. Viet Nam is among the countries with the highest rates of cancer and cancer emortality in the world. More than 150,000 new cancer cases are detected yearly in Viet Nam, as reported by the World Health Organisation, the Viet Nam Ministry of Health, and the National Cancer Hospital in 2015.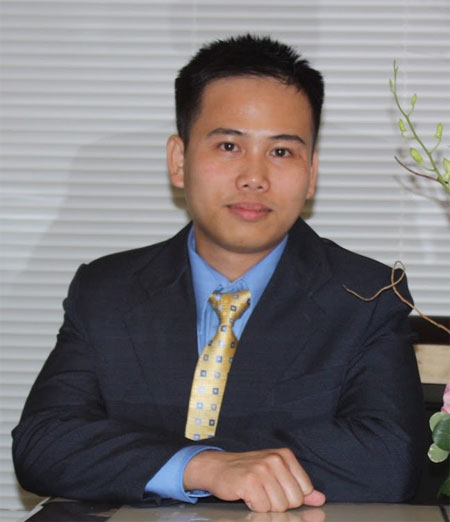 Award-winning cancer researcher: Dr Phan Minh Liem.
Dr Phan Minh Liem, 33, from Nha Trang City, is a cancer researcher from MD Anderson Cancer Center and a founder of Orchid Magic Inc, (a startup focusing on cancer prevention solutions). Liem has carried out multiple research projects at the US's leading cancer centre for 11 years.
He has authored 25 research works on cancer with his colleagues and was named one of the ten exemplary young Vietnamese in 2014.
He has received some of his field's most prestigious awards, including: the Department of Defense Breast Cancer Pre-doctoral Traineeship Award for 2009-2013; 1st Prize Scientific Poster Award – Clinical Sciences: Medicine, Pharmaceutics, Pharmacology and Public Health presented by the US Congress – Vietnam Education Foundation in 2014; Rosalie B. Hite Fellowship; T.C. Hsu Scholarship; Andrew-Huggins Scholarship; and the US Congress - Vietnam Education Foundation Fellowship.
He was also named the Sylvan Rodriguez/Cancer Answers Award Scholar in 2010, thanks to his outstanding academic achievements in cancer research and his community contributions.
In 2010, he was also the first and only international student ever elected President of the Graduate Student Association of MD Anderson Cancer Center - Graduate Student Association in the 75-year history of the institution.
You and your associates recently detected a gene which can hold back and keep in check the energy-creating process of tumors. Please tell us more about this.
Cancer is a devastating disease that is hard to treat because cancer cells continuously change, mutate, evolve, and adapt. To win the war against cancer, it is necessary that we understand our enemy: cancer cells. Therefore, cancer research is essential for this fierce battle.
After years of intensive research, our team discovered 14-3-3 sigma protein was able to effectively and precisely inhibit tumor energy production by suppressing a number of cancer metabolism modes.
Glycolysis (the process of breaking down glucose) and glutaminolysis (the pathway of metabolising glutamine) are two important modes of cancer metabolism. We found 14-3-3 sigma could block both of these modes, as well as many other metabolic processes of cancer cells.
Interestingly, our initial tests show that 14-3-3 sigma-mediated inhibition severely damaged cancer metabolism without harming normal cells. 14-3-3 sigma protein was also effective against multiple types of cancer, including breast, lung and colon cancers. More experiments need to be performed to ensure the effectiveness and safety of this therapeutic approach.
We think our findings could contribute to establishing a scientific foundation for developing new therapies to eradicate cancer cells without damaging normal cells. We have tested this therapy in multiple cancerous cellular and mouse models with success. Our current focus is to design therapeutic agents that can substantially and accurately activate 14-3-3 sigma protein expression and function in cancer cells. We think that we could be going in a promising direction. But we have a lot more work to do to evaluate and optimize this treatment method.
Your paternal grandmother and aunt suffered from liver cancer. Was this your motivation for delving into this debilitating disease?
Yes, my grandmother and my aunt passed away due to liver cancer. My cousin also died from colon cancer at a very young age. I have also witnessed many patients in Viet Nam and around the world affected by this dangerous disease. These tragedies give me strength and determination to pursue the challenging journey of cancer research.
Every year more than 8 million patients die due to cancer and 14 million new cancer cases are detected. It is alarming that the number of cancer patients keeps rising, especially in developing countries. Cancer is truly one of the most dangerous medical challenges that humankind has ever faced.
In addition to developing new treatments, we must also focus on cancer prevention. If all cancer prevention measures were correctly applied, two thirds of cancer cases could be prevented.
How do you feel when you see frail cancer patients struggling as they attempt to take back their lives from the ticking clock of death?
Our team at MD Anderson Cancer Center is responsible for studying the biology of cancer, developing new therapies, and participating in treating advanced stage cancer patients whose tumors resist standard treatment approaches. When patients pass away, my colleagues and I always feel sad. But at the same time, we become more determined to find a cure for cancer. We know a lot of people are waiting for us and we need to work harder to help patients. In addition to our research and clinical work, we also organise campaigns to raise public awareness about cancer prevention.
What are the causes and warning signals of cancer that everyone should know?
Cancer is caused by a number of factors such as genetic mutations, viruses, carcinogens, bacteria, unhealthy lifestyles, pollution, tobacco, alcohol, unhealthy diets, etc.
Could you give our readers some advice to prevent cancer and lower the risk of this fatal disease?
Cancer prevention measures include regular screenings, adopting healthy diets and lifestyles, vaccinations (HPV vaccine, HBV vaccine, etc), avoiding tobacco smoke and other carcinogens, maintaining healthy weights and reducing stress, among others.
Inner Sanctum: How does it feel to be the first Vietnamese doctorate holder honoured by the University of Texas M.D. Anderson Cancer Centre four times?
I am very lucky to have received awards from the MD Anderson Cancer Center and its Graduate School of Biomedical Sciences, Department of Defense Breast Cancer Research Program, Rosalie B. Hite Foundation, Vietnam Education Foundation, Viet Nam Government, and other organisations.
These awards encourage and enable me to pursue my studies and to contribute to finding a cure for cancer. But the most significant reward for me and my colleagues is to see our patients recover and become cancer-free. That is our ultimate reward.
Will you return to Viet Nam to work and contribute, once your research has proven fruitful?
Yes, I will. Thanks to the generous help of the Viet Nam Education Foundation, MD Anderson Cancer Center, and The University of Texas Graduate School of Biomedical Sciences, I was able to study and carry out multiple research projects for cancer therapy innovation since 2005. Our research still needs more time. But after completing our cancer studies in the USA, I will return to Viet Nam to help my country with cancer prevention, research, and therapy innovation.
Since 2012, my colleagues at MD Anderson Cancer Center and I have spent a lot of time in Viet Nam to provide training opportunities for oncologists, researchers, students and to help raise public awareness about cancer prevention. We will continue to help Viet Nam and the world to control - and hopefully eliminate - cancer in future. This could be a very long journey that may require many decades to complete. But as all long journeys start with small steps, we will continue to study cancer diligently and contribute to finding a cure for this dangerous disease.
VNS