VietNamNet Bridge - Bioenergy from agricultural byproducts could reach 53.5 million tons, which is equivalent to 12.8 million tons of crude oil.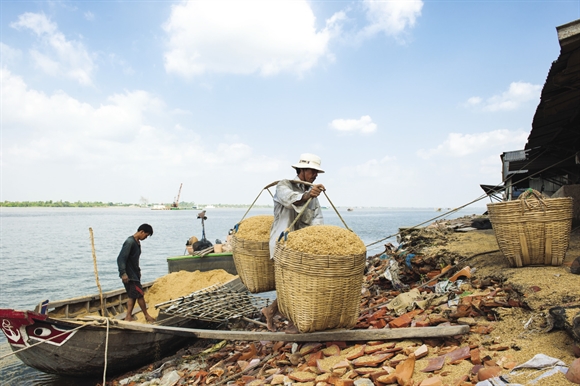 In the past, rice husks were used to keep ice cold, or used by brick kilns and distilleries as fuel, while ash was collected to serve as fertilizer. However, in recent years, it has been used as an effective biomass fuel that is environmentally friendly.
In 2010-2016, the rice output in Mekong River Delta increased rapidly from 20 million tons to 25 million tons. From that, Vietnam can collect 4-5 million tons of rice husks a year.
Fresh rice husks are now sold at VND700-800 per kilo, while it was VND50-200 per kilo some years ago.
"Enterprises can exploit the rice husk to make husk firewood. The profits are good," said Truong Hoang Van from Hoang Vinh Phu JSC.
The rice husks generated during the husking process are brought directly to the material containing tank, ready for firewood production. This allows Hoang Phu to save costs on the labor force and optimize profits.
Bioenergy from agricultural byproducts could reach 53.5 million tons, which is equivalent to 12.8 million tons of crude oil.
Hoang Vinh Phu's rice husk pressing factory now churns out 400-500 kilos of husk firewood every day which can be sold for VND1,300-1,500 per kilo.
A company specializing in collecting rice husks for export in HCMC said that they exported some 40,000 tons of rice husk every year at VND20 million per ton.
Mai Han Company in Can Tho City exports 20 tons of rice husk on average to South Korea, Japan, Canada and the US a month. South Korea, for example, consumes 20,000 tons of husk firewood sticks.
Meanwhile, Hoang Huynh Company in Tien Giang province utilizes husk firewood to make charcoal. Every 3 tons of firewood can create one ton of coal. The company provides products to Metro at VND5,000-5,500 per kilo which sells coal at Metro chain and exports to South Korea, Thailand and the US.
"We sell 6,000 tons of coal to Metro each month, earning some VND30 million. For both coal and firewood, we can earn VND100 million," Huynh said.
He went on to say that the enterprises that make products using boiler technologies tend to use husk firewood instead of fossil coal or other materials. 
"Even the pottery kilns in the north now buy husk firewood from Mekong River Delta," he said. 
IEV Vietnam has put a husk firewood factory in Can Tho City into operation. This is the company's first large biomass fuel material factory in Mekong River Delta. The factory is located near 30 rice husking workshops which serve as large material supply sources.
NCDT