VietNamNet Bridge - A huge amount of capital has been poured into Vietnamese technology startups in recent years.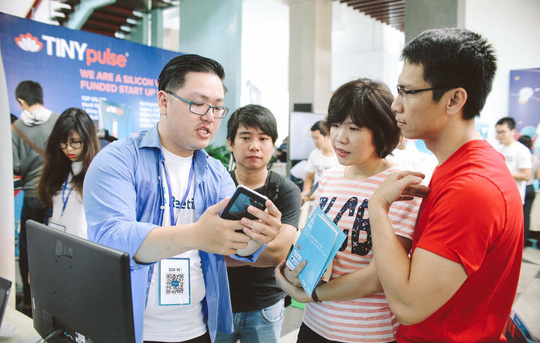 Eddie O'Neil, product manager of Facebook, said Facebook had started the FbStart Program's third year with two support packages for potential mobile app developers on iOS or Android app stores. 
The two packages, including Bootstrap worth $40,000 and Accelerate $80,000, comprise tools and free internet services for fixed terms.
FPT Telecom has set up two data centers which meet Uptime Tier III standard in HCMC and Hanoi which aim to assist domestic startups.
The two centers would provide hosting, transmission line and servers to startup projects, free of charge, for six months – 1 year, depending on the projects' scale.
A huge amount of capital has been poured into Vietnamese technology startups in recent years.    
However, Vu Anh Tu, deputy CEO of FPT Telecom, said the support would be provided in a selective way, and only the projects with high potential will receive investment. 
In May 2015, FPT launched FTP Ventures, a venture fund targeting technology startups. This is the unit which provides cash, resources, skills and technology management to startups.
Just within four months since the day it heard about  startups, it made investment decisions. In principle, startups founders must commit to build a business within five years. 
According to FPT Ventures, it has poured over $1 million into startup projects in the last year.
At a workshop discussing solutions to help develop startups on June 17, HCMC Mayor Nguyen Thanh Phong said that the city would allocate a VND1 trillion credit package from the city's budget to support startup activities.
The HCMC Startup Investment Fund was established last May with initial capital of VND30 billion. Meanwhile, the city's leaders promised that the fund's capital would rise to VND100 billion in 2016-2020.
The Prime Minister has approved the project on supporting startup ecosystem under which 800 projects and 200 startups would receive support by 2020, of which 50 businesses would successfully call for capital from venture investors, while merger & acquisition (M&A) deals would be carried out with the estimated total value of VND1 trillion. 
Meanwhile, 2,000 projects and 600 businesses would receive support with total value of VND2 trillion in 2025.
Where has the capital gone?
eDoctor is a mobile app which allows millions of users to access information about health care, and connects doctors, hospitals and drug stores. 
Vu Thanh Long from eDoctor said the number of people registering eDoctor increased by 39 percent after two months, while the number of regular users rose by 48 percent.
AhaMove is an on-demand transport service which connects clients and service providers, thus helping optimize costs for users. AhaMove's users can easily order carriers and track the shipment through mobile devices.
NLD