VietNamNet Bridge - Software, chip sensors and cloud computing have been used in 'smart agriculture' projects in HCMC which have brought encouraging results.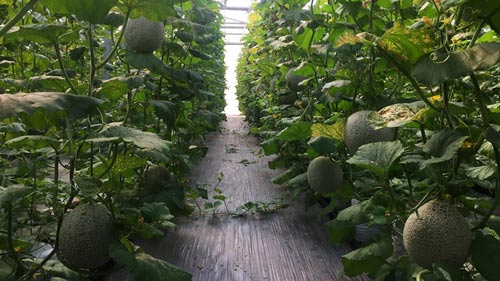 Since late December 2015, in the Agricultural High-tech Park (AHTP), a poly-greenhouse covering an area of 1,000 square meters, where melons are grown with automatic technology has been put into operation.
According to Ngo Van Toan, deputy CEO of Global CyberSoft Vietnam (GCS), an information technology firm, in the past, the temperature, humidity and light of plants mostly depended on farmers' experience. But now the indices are set automatically through chip sensors installed in the house. With the self-regulating mechanism, the factors which affect development of plants can be set at the most suitable levels. 
More than two tons of melons have been sold recently which brought turnover of VND60 million. A representative of AHTP said with the new cultivation method, the yield is 10 percent higher than the traditional method, while the quality is higher.
Software, chip sensors and cloud computing have been used in 'smart agriculture' projects in HCMC which have brought encouraging results.
Growing melon with automatic technology is a part of the project co-implemented by the Quang Trung Software High-tech Park (QTSC), GCS and AHTP Management Board. 
The first product of the project is the Smart Agri management system which allows farmers to plan cultivation, estimate costs and revenue, collect information about temperature, humidity, light and pH level and regulate devices so as to ensure the standard environment for the plants. 
Smart Agri also helps analyze and assess quality and productivity, and set up the ecosystem for farmers, distributors and buyers to exchange information and experience.
Many other technology firms have launched IT solutions for agricultural production. VinaPhone, a telco, for example, provides M2M technology which helps to closely watch over weather conditions and other indicators, thus allowing to prevent epidemics. 
The information about market prices of farm produce in different areas in Vietnam and in the world is updated by the hour and daily via smartphones.
Meanwhile, MobiFone, the other large mobile network operator, provides Nong Thon Xanh (Green rural area) and Viettel, the military telco has Agri.ONE.
FPT, the largest information technology group in the country, has joined forces with Fujitsu to develop a smart agriculture cooperation center FPT-Fujitsu which uses  Akisai cloud computing technology to grow medium-sized tomato and lettuce with little potassium in a closed process from management, production to distribution and consumption.
According to FPT, with Akisai, the lettuce is sweet and contains potassium which is equal to 1/5 of normal lettuce, suitable to those with kidney disease and those who go on a diet. As no chemical is used during cultivation, lettuce can be eaten without washing. Meanwhile, the tomato has high lycopene, the antioxidant component, which is three times higher than normal products.
NLD