VietNamNet Bridge – Unlike other teenagers, Nguyen Thu Minh Chau and Hoang Lu Duc Chinh would prefer to spend hours doing experiments on cancer treatment during their free time.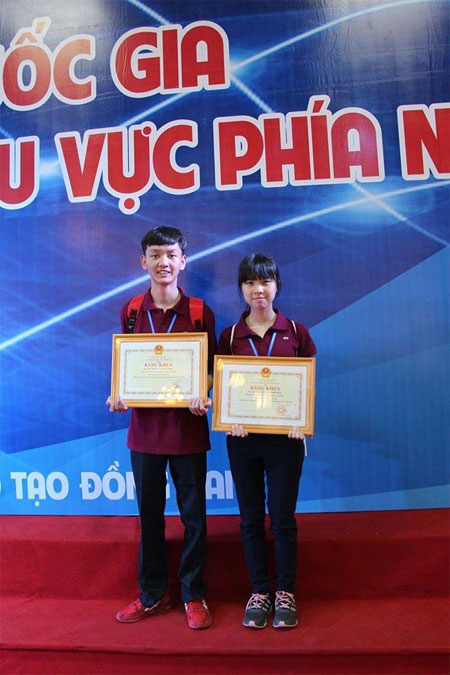 Winning idea: A study on the ability to bind and kill several cancer cell types with antinuclear antibodies by Chinh and Chau received a second-place prize in the national Science and Technology Festival. The study also received the third-place prize in the recent Intel International Science and Engineering Fair in the US. Photo courtesy of Hoang Duc Chinh
Together, the two 11th-graders from Thang Long Specialised High School in the Central Highlands city of Da Lat have conducted a study on the ability to bind and kill several cancer cell types with human antinuclear antibodies. The study won a third-place prize in cellular and molecular biology category at the recent Intel International Science and Engineering Fair 2016.
The aim of the study was to practically evaluate the capacity of binding and destroying cancer cells in vitro of ANA or antinuclear antibodies, which initially proves its potential to treat the disease that has claimed so many lives worldwide. The study focuses on the treatment of human prostate cancer cell line PC3, human small cell lung cancer H211 and human primary glioblastoma/astrocytoma U87.
After returning from the US, where the contest took place, both Chau and Chinh were still overwhelmed by the glorious feeling of victory.
"Both of us were very moved and surprised. The prize is really beyond our expectations, because we just considered it an experience, a playground to exchange ideas at first," Chinh said.
Despite coming from a specialised maths class, the two contest winners shared the same passion for biological research, which inspired them to come up with the idea for the study together.
"My dream is to become a cancer specialist in the future because more and more people are unfortunately contracting this disease," Chau said. "Both of us have two relatives who passed away due to cancer, so we can understand the pain that it leaves behind."
The two friends stumbled upon information about targeted cancer therapy, a new treatment utilising biological medicine to target and affect a specific part of the tumour, which proved to be more effective and safe in comparison with contemporary methods.
"However, at the moment, the antibody is mostly taken from mice and then humanised with that of human, which limits the effectiveness of the treatment because that antibody is considered a foreign protein and rejected by the immune system," Chinh said about the inspiration for their study.
"Therefore, we sought an antibody that was naturally a cell found directly in the human body and capable of killing cancer cells," he added.
"An antibody capable of destroying body cells? We accidentally read the answer before thinking about that idea," he said. "Both of us learnt about Lupus disease. The body of a Lupus patient creates a high amount of ANA, a nuclear antibody that can attack the cell of the body. We wanted to study whether it could affect cancer cells."
Early in August 2015, Chau and Chinh embarked on their study.
It took them days to read and generalise the related references, then design the experiments before actually conducting them in the Da Lat Nuclear Research Institute's lab.
Their direct instructors were Phan Thi Ngoc Giau, a biology teacher from Thang Long Specialised School, and Nguyen Thi Thu from the institute.
"We found some theories of several renowned scientists about the mechanism affecting cancer cells and the potential of ANA, but there were no experiments to prove that potential," Chinh said. "Luckily, at the same time we were conducting our study, Yale University in the US released an announcement about ANA, which fundamentally supported the explanation of our experiments."
One of their biggest difficulties was the requirement of knowledge and techniques used in the laboratory. Each question that arose during the study could not be instantly answered, but needed a thorough understanding and modern technique for clarification.
"So we had to spend a lot of time and effort reading references, most of which were in technical English, and also familiarising ourselves with conducting experiments," he said.
They were enthusiastically supported and encouraged by their teachers, especially by specialists who backed them from the beginning.
"Our school has always encouraged and offered favourable conditions for students to conduct scientific studies, which will equip them with many new skills and methods of scientific research, group working and reporting," said Principal Nguyen Thi Ngoc Dung of Thang Long Specialised School.
"Those skills will be very meaningful to them when they enter universities."
Additionally, the two students successfully cultured prostate cancer cell line PC3, small cell lung cancer H211 and primary glioblastoma/astrocytoma U87 for experiment samples in the laboratory.
Nine months of hard work finally paid off when Chinh and Chau heard the good news from Vietnam Military Medical University that ANA was positively binding itself and increasing the rate of prostate cancer cells killed by five times.
"I was very surprised on receiving such positive results. Our dedication to the study had finally paid off," Chau said happily.
Their study was granted a second-place prize in the national Science and Engineering Fair, and certificate of merits from the Society of In Vitro Biology in the US.
Their research, entitled Study on the ability to bind and kill several cancer cell types with an antinuclear antibody, was chosen as one of the six projects in Viet Nam to participate in the recent Intel International Science and Engineering Fair 2016.
"Chinh and Chau's study received a high evaluation from international scientists in the fair due to its new discovery and practical application," said Tran Duc Loi, vice director of the Da Lat City's Department of Education and Training.
"Their result has significantly contributed to the achievements of Viet Nam's delegation on the playground for young scientists and technicians. It also offers a chance for them to meet renowned scientists worldwide and receive more encouragement to pursue their dreams in the future."
by Luong Thu Huong
VNS