VietNamNet Bridge - The Ministry of Science and Technology (MST) said it would propose to not continue investments in national key laboratories if the current management policy does not change.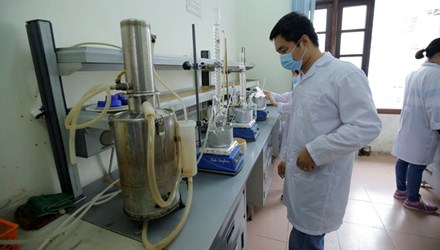 "We have to struggle too hard to maintain the key lab," said Vu Thi Thu Ha, director of petrochemistry lab under the Vietnam Institute of Industrial Chemistry (VIIC).
Not only the petrochemistry lab, but most of the other key labs of the nation are in big difficulties.
Under the MST's Decision 08 in 2008, the State would make investment in key labs to build them into national modern labs. It would pour money into the labs in the first four years to help with regular expenses.
The decision also said the state would 'order' the labs to carry out short-term and long-term tasks in order to settle urgent problems.
Most of the key labs of the nation are in big difficulties.
However, the leaders of many key labs said the labs had only received machines and equipment as the initial investment and are now receiving VND1 billion every year and nothing else. 
Nguyen Ngoc Quynh, director of the Lab of River and Coastal Engineering (KLORCE) under to the Vietnam Water Resources Science Institute, said that except for the VND60 billion worth of equipment it received when the lab became operational and the VND1 billion every year, it has no preferences as a key lab.
"The state did not assign scientific research work to us," he said. "Four years ago, after a lot of complaints, we got two orders as the 'famine relief', and no more since then."
"There are 120 officers in our lab, but only 40 can receive basic salaries from the state, while the lab has to pay to the other 80," he said.
The 40 officers can receive salaries because the lab is considered an institute of the Vietnam Water Resources Institute, which means that salaries are paid to the workers of the institute.
According to Dong Van Quyen, deputy director of Genetic Technology Key Lab, the lab cannot have the best staff because of the brain drain. 
"Our Dr Nguyen Trung Nam can receive $5,000 for the post of assistant professor in Japan. If he works for the lab, his salary would be just equal to 1/5 or 1/10 of the income he can expect if he works for private universities or businesses," he said.
Minister of MST Nguyen Quan, when asked what MST would do with key labs, said the investments in ineffective labs will be cut so as to gather strength on effective ones.
He said MST would not suggest continuing the investments in national key laboratories if the current management mechanism does not change.
Tien Phong