VietNamNet Bridge - An eleventh grader in Ben Tre City has successfully created a solar panel-run machine which can convert saltwater into fresh water.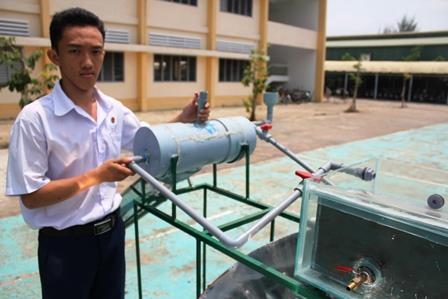 Nguyen Tan Loi and his machine
Nguyen Tan Loi, 17, a student of Nguyen Dinh Chieu High School, said Loi began thinking of the machine after a trip to a coastal area, where people had to save every drop of fresh water. He wanted to create a machine which could make fresh water from saltwater and help people save money.
Two students of the school once created a machine with similar function, however, it did not have high efficiency. Therefore, he decided to follow a quite different approach method to create a new machine to help people in drought-stricken areas.
Loi set to work in May 2015 and finished in January 2016. During this time, he had to deal with a lot of problems: the water could not be made hot enough or it was not condensing. However, he succeeded after a lot of failures.
The first saltwater converting machine was put into operation at Nguyen Dinh Chieu High School where Loi goes to. The machine runs on solar panels which allows it to save fuel and protect the environment.
The machine runs on solar panels which allows it to save fuel and protect the environment.
Though the existing machine has been running well, Loi hopes he can make next-generation machines which have higher capacity.
"The first machine has small capacity because there is only one glass tube. It can only provide enough water for drinking," he explained.
"I plan to create a machine with seven glass tubes which can churn out 30 liters of water a day. The machine will be helpful in people's daily life," he said.
When asked about the production cost, Loi said as the machine is made to serve poor people in rural areas, it must be cheap enough for them to afford. 
"If the machine is put into industrial production, its price would be less than VND1 million," Loi said.
According to Truong Huu Dung, the teacher who guided Loi to implement the project, Loi's machine is the second version of the machine. The first version was created by two other students of the school. 
"Loi focused on improving the heat retention and distillation units, therefore, his machine has higher capacity," he said, adding that they would work on a machine with higher capacity.
Dung said the machine comprises three major parts. The first part serves the boiling of saltwater made of vacuum glass tubes which can absorb 93 percent of the solar energy and heat water.
The second part is the insulation T-shaped tank made of heat-resistant plastics.
The third one is a distillation tank made of 8 mm glass.
Dat Viet