VietNamNet Bridge - According to the Asia Turtle Conservation Program (ATP) in Asia, modern science and technology will be able to restore the Hoan Kiem turtle and bring the soft-shelled turtles back to the Sword Lake in the future by cloning.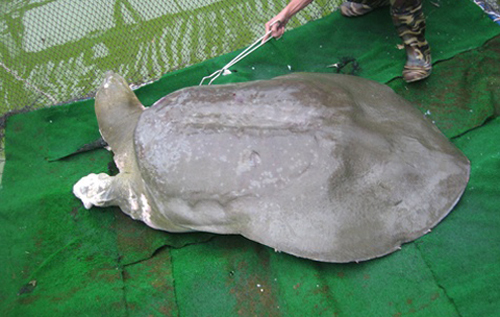 ATP said that the collection and storage of tissue samples of the turtle upon its death must be implemented as soon as possible, because the samples determine the success of the cloning process later.
ATP expert Tim MacCormack said that Vietnam needs to quickly collect tissue samples of the turtle before the tissues and living cells are destroyed. The tissues can be collected from the trachea, heart, the connective tissue under the shell bone or the reproductive organs. Each sample should be 1cm3 in size.
Experts suggest that to conserve the Hoan Kiem Lake turtle, the cloning method, like the one applied with the Dolly sheep before, should be used.
Given that the technology to collect and preserve tissues is still quite new in Vietnam, ATP experts said that this approach should be considered because there are only a few choices for conservation of this rare turtle species, and with the help of scientists, this can be done.
Professor Le Dinh Luong from the Vietnam DNA Analysis and Genetic Technology Center said that cloning would be the optimal method for the conservation of the Hoan Kiem Lake turtle. But he is afraid of the cost.
Agreeing with the proposal, Mr. Do Thanh Hao, from the Cuc Phuong Turtle National Centre, worried that the method is new in Vietnam. He did not want to perform cloning of any animal species in the world. "That's just the temporary solution. I do not want any species to have a similar future like the Hoan Kiem turtle," he said.
When the Hoan Kiem turtle was still alive, some scientists mentioned this method but it was opposed. They said the cloned animals will lose immunity and be susceptible to diseases. Besides, the world has never cloned turtles so this may accidentally turn the Hoan Kiem turtle into a "sample". Also, the lifespan of the next generation will be short.
The Hoan Kiem turtle died on January 19. It was handed over to the Vietnam Museum of Nature for preservation.
In biology, cloning is the process of producing similar populations of genetically identical individuals that occur in nature when organisms such as bacteria, insects or plants reproduce asexually. Cloning in biotechnology refers to processes used to create copies of DNA fragments (molecular cloning), cells (cell cloning), or organisms.
Thu Ly