VietNamNet Bridge – Deputy Prime Minister Hoang Trung Hai has urged Electricity of Viet Nam (EVN) to develop new and renewable energy sources including wind and solar power.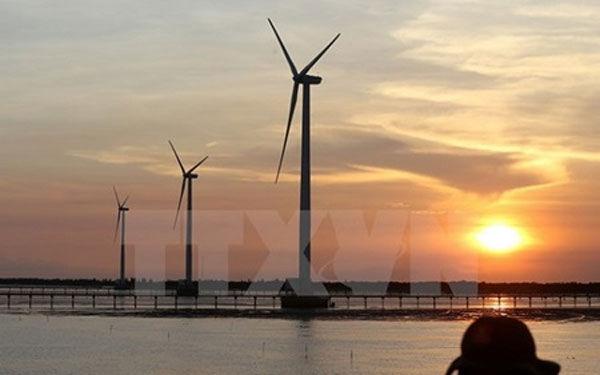 Deputy Prime Minister Hoang Trung Hai has urged EVN to develop new and renewable energy sources including wind and solar power. — Photo: VNA/VNS
The Deputy PM made his request yesterday while attending a conference held by EVN to review the electricity sector's performance in the last year and set goals for this year.
EVN should continue supplying adequate electricity for the economy while taking the lead in developing new and renewable energy sources, said Deputy PM Hai.
Speaking at the conference, Hai hailed the sector for ensuring sufficient power for the economy and preparing standby resources.
The group has changed public perception by serving customers effectively and increased the transparency of electricity prices, he said, adding that the rising number of multi-purpose hydropower plants has helped balance the water demand for daily activities and agriculture production.
However, he noted that it will be difficult for the national group to mobilise investment capital for power projects as the capital market is incomplete.
The current standby electricity generating system would not work within two years, so EVN needs drastic investment to deal with this issue, he said.
Proper changes in planning and scientific calculation and research are essential to ensure a safe and stable system, he said, recommending boosting administrative reform and encouraging e-payment.
EVN ends divestment
EVN has completed divestment from its non-core sectors including real estate, securities, banking, and insurance, Dinh Quang Tri, EVN's deputy general director, said.
Tri told the conference that the group and its nine corporations reported high profits last year. By the end of 2015, its charter capital was double that of 2010, reaching VND160 trillion (US$7.1 billion).
Notably, the turnover from selling electricity in 2015 was estimated at VND233.7 trillion ($10.3 billion), posting an 18.5 per cent year-on-year rise.
"All of the basic financial criteria in EVN and its units met the set targets," he said.
He said that the increasing turnover last year was attributed to higher power tariffs and productivity.
The latest power tariff increase was on March 16, 2015, which was between VND12.58 per kWh and VND1,629 per kWh.
EVN also planned to increase retail power tariffs to VND1,651 per kWh in 2016, which was 1.3 per cent higher than that in 2015.
By the end of 2015, EVN had brought electricity to 99.8 per cent of households in rural areas.
He said the rate of power losses was reduced by 0.43 per cent in comparison to 2014, while the productivity of its labourers rose 10 per cent to 1.54 million kWh a person. The average use of electricity per capita was 1,536 kWh per annum, up 56 per cent over 2010.
Over the past five years, commercial electricity posted an average growth of 10.84 per cent. Electricity generated for the industry and construction climbed 11.7 per cent on a yearly basis, while that for consumption went up 9.6 per cent, trade-services 14.1 per cent, and agriculture 20.1 per cent.
The commercial electricity output reached 143.34 billion kWh in 2015, surpassing the yearly target by 1.54 billion kWh and increasing 11.44 per cent year-on-year.
The total electricity capacity for 2016 was estimated at over 38,800 MW. The commercial electricity output was expected to expand between 11 per cent and 12 per cent against 2015.
The southern power system will still have to cover around 25 per cent of demand from the northern and central regions, which is about 20 billion kWh for the whole year, he said, stressing the importance of ensuring gas fuel and coal for stable and safe operation of power plants in the south such as Vinh Tan 2 and Duyen Hai 1.
The deputy minister said that in 2016, EVN's total electricity production and imports would be up to 175.9 billion kWh, representing a 10 per cent increase from last year, of which, its power production would be 81.9 billion kWh and imported power would be 93.98 billion kWh.
The EVN would have solutions for suitable exploitation of hydropower plants as well as mobilising thermo-power plants to meet the electricity demand in the dry season of this year.
In addition, the group has submitted a plan for power imports of 1.2 billion kWh from China and 1.54 billion kWh from Laos.
He said in order to realise this year's targets, EVN has co-ordinated with the Viet Nam National Coal and Mineral Industries Group (Vinacomin), the Viet Nam National Oil and Gas Group (PetroVietnam) and the PetrolVietnam Gas (PVGas) to ensure the smooth operation of the power generating systems across the country.
The EVN National Power Transmission Corporation (EVN NPT) is responsible for safely operating power transmission lines and transformer stations, especially the 500kV North-South power system in the dry season.
Electricity companies must improve procedures to increase the electricity access index.
Electricity System Control
Also on the same day, the national load dispatch centre (A0) officially brought the Centre for Electricity System Control and new power market into operation.
The centre would be operated on the basis of the Energy Management System (SCADA/EMS) which has been established for the operation schedule and remote control with the capability of controlling voltage and power flow properly against the current which varies from hour to hour, scheduling outage of the power system equipment such as power transmission lines and transformers for inspection and repair, and initiating measures in case of any contingency.
The centre would connect and control the country's overall electricity system from national to regional levels to exchange data in a timely and exact manner.
In addition, the centre has been placed at two different locations to ensure power supply.
With these outstanding features, the power operation and transaction in the market would be easier as they are quickly updated.
The centre's operation has also affirmed firm steps in investing in hi-tech applications in the power sector.
The event also marked a big improvement in applying advanced science and technology into the power system. It has affirmed the efforts of Viet Nam's electricity sector to reach the standards of ASEAN countries as well as modern countries in the world.
VNS