Viet Nam will start the construction on its first nuclear power plant in Ninh Thuan in 2020, six years later than scheduled, to ensure safety and efficiency, said Hoang Anh Tuan, director general of the Viet Nam Atomic Energy Agency.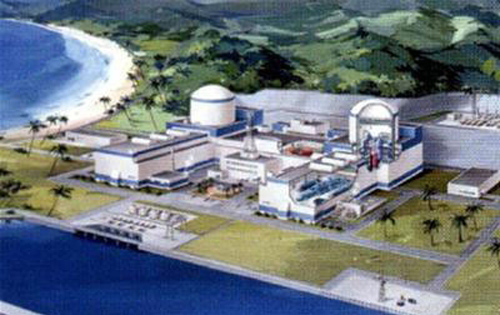 Sketch of Ninh Thuan Nuclear Power Plant.
Tuan made the announcement on Thursday at a seminar on nuclear power organised by the Viet Nam Atomic Energy Agency under the Ministry of Science and Technology, the HCM City University of Technology and Russia's State Nuclear Energy Corporation (Rosatom).
After the Fukushima disaster, the Vietnamese government ordered a review on the project's safety, causing the delay in construction, he said.
He said that agencies were assessing dossiers for Ninh Thuan nuclear plant project to submit to the Prime Minister.
"Agencies have also assessed the environmental impact of the construction of two nuclear plants in Viet Nam. The evaluation was carried out with the help of experts from the International Atomic Energy Agency," he said.
The head of the Viet Nam Atomic Energy Agency said Viet Nam faced a lot of difficulties in nuclear power plant construction due to a lack of experience in nuclear power. The country hadn't adopted a policy to mobilise young and experienced human resources in the field, he said.
At the seminar, an expert from Russia's Rosatom Corporation introduced Water-Water Energetic Reactor (VVER) technology, the most advanced VVER-TOI technology, which has been proven to be effective and safe in nuclear power development.
As many as 57 VVERs have operated effectively in 19 nuclear plants across 11 countries, according to professor Pavel A Belousov from the Russian National Research Nuclear University.
Tuan said Viet Nam attached importance to safe and effective nuclear power development and ensured that it was in line with the recommendations of the international Atomic Energy Agency.
The country sent experts to Russia to be trained on the VVER-TOI technology and was producing relevant legal documents in a bid to safely operate nuclear power plants in the future, he said.
Viet Nam is working to construct its first two nuclear power plants in Ninh Thuan Province.
Viet Nam had originally planned to start building the Ninh Thuan 1 nuclear plant in 2014 and start operation in 2020, with help from Russia's state nuclear firm Rosatom. The country also picked a Japanese consortium to develop a second nuclear power plant.
Ninh Thuan 1 nuclear project will be built with estimated investment of 200 trillion dong ($8.9 billion). Most of the capital is loaned from Russia.
Once completed, the plant will have a capacity of 4,000MW, contributing between 3 and 4 per cent of the total capacity of national power.
Under the country's energy development plan, by 2030 nuclear power will provide 15,000-16,000MW of power representing 10 per cent of the total installed capacity in Viet Nam.
VNS