VietNamNet Bridge – Thirteen years after it opened, the Sai Gon Hi-tech Park (SHTP) has achieved total sales of US$13.6 billion, including exports of $13.5 billion.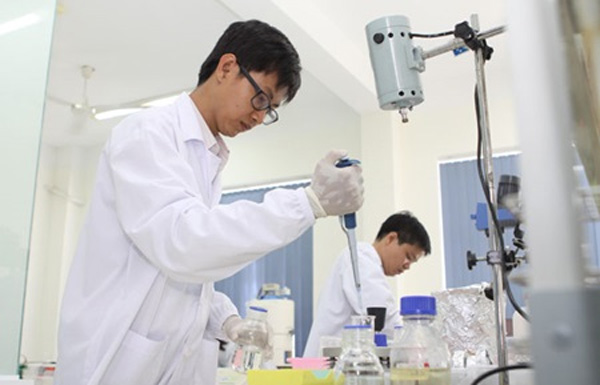 Scientists work on nanotechnology applications at a laboratory at the Sai Gon Hi-tech Park in HCM City. The park makes significant contributions to the city's development. — Photo: VNA/VNS
Since the first company was licensed at the SHTP in September 2005, HCM City has issued licences to 101 additional companies with a combined investment of $4.9 billion, of which FDI accounted for over $4 billion.
SHTP's products now account for 94 per cent of HCM City's hi-tech products, according to Le Hoai Quoc, head of SHTP Management Board.
As of September, 82 investment projects in the park remained valid, with total registered capital of $4.38 billion. These include 46 operational projects, 10 under construction, and 16 which have been licensed in 2015.
Two projects were delayed while the others are under preparation.
Quoc said the SHTP enterprises and factories had created over 22,000 jobs, with 100 per cent of them being skilled workers.
The average export value of SHTP's hi-tech products in the period 2011 – 2014 and the first nine months of 2015 accounted for over 90 per cent of the city's exports of hi-tech products.
SHTP's export turnover also rose from 5 per cent of the city's total exports in 2011 to 14.19 per cent in 2014 and 18 per cent in the first nine months of the year.
"These figures indicate the significant contribution of SHTP to HCM City's socio-economic development, through the park's mobilisation of foreign direct investment for the city," Quoc was quoted as saying in the Sai Gon Giai Phong (Liberated Sai Gon) newspaper.
"It is the value of infrastructure facilities and supporting industries, not the lower land rental price, that is the most important factor for tenants to SHTP," he said.
Quoc said this point of view was demonstrated with the huge investments in the SHTP, including the license granted to the $1 billion project of the Intel Group in 2006 and the investment certificate awarded to the $1.4 billion project of the Samsung Group in 2014.
These huge projects have helped attract investment in the supporting industry.
He said the Central Government and the city's authority should issue policies to support domestic scientific and technological enterprises to manufacture products that meet the criteria of FDI projects.
To help scientific and technological enterprises develop, the Government should grant tax incentives and issue policies to help them access preferential loans from commercial banks, Quoc said.
VNS