VietNamNet Bridge - Vietnamese information technology (IT) firms can keep abreast of the world in the fields of cloud computing, big data and mobility, experts have said.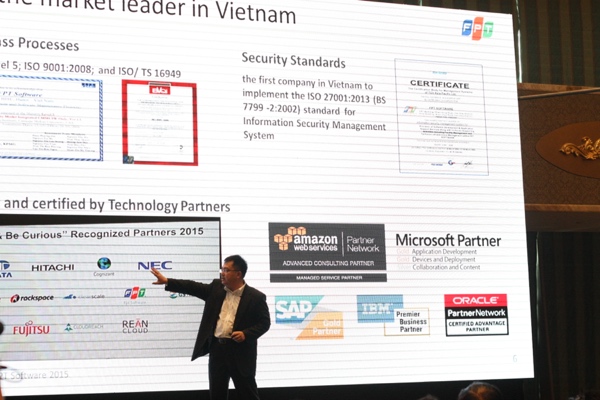 Tien showed an image in which FPT's logo was on par with international big names like NEC, Hitachi and Fujitsu
Hoang Nam Tien, chair of FPT Software, a subsidiary of FPT, the Vietnamese largest IT group, said that Vietnamese firms were equal in rank with big rivals in many IT fields.
FPT Software has cooperated with the US AT&T to put the network operator's programs into the cloud, thus allowing 60 million users in the US to use the apps on the cloud. About 800 Vietnamese engineers work with AT&T every day to implement the project. 
FPT Software won the contract with AT&T after defeating other foreign companies.
A large chemical company in the US which has been operating for 200 years is also an FPT Software Client. It signed a contract on inputting a large database, including systems and apps, into the cloud.
Tien, who spoke at VNITO 2015, the conference on IT outsourcing development, on October 15, showed an image in which FPT's logo was on par with international big names like NEC, Hitachi and Fujitsu, technical partners recognised by Amazon.
According to Tien, Vietnam's capability is not yet sufficient to become a cloudmaker like some big companies in the world such as Amazon. However, it is capable of handling the work of a cloud transporter.
The chair of the software firm with 10,000 workers noted that while Y2K problem helped India emerge as a powerful software outsourcing country in 2000s, the current period of mobility, cloud and big data may make Vietnam the 'second India'.
Hung Q. Nguyen, CEO and president of LogiGear, was also a panel speaker at the VNITO 2015 workshop. 
The Silicon Valley-based firm, which has been operational for the last 20 years, once met with big difficulties in the bubble period when dotcom firms collapsed in 2000. LogiGear then had to cut the workforce and seek resources outside by outsourcing some of its work.
India and Vietnam were two markets LogiGear approached. At first, LogiGear feared Vietnamese workers could not satisfy the requirements. However, after some projects were fulfilled well, LogiGear decided to set up a company in Vietnam, which initially only had a few workers, but now has about 800 workers, including 200 in Da Nang City.
He said Vietnamese engineers were very good and can handle many different tasks, from simple to complicated.
Buu Dien