VietNamNet Bridge - Large international hi-tech conglomerates say that Vietnamese engineers have become involved more deeply in the implementation of big outsourcing projects.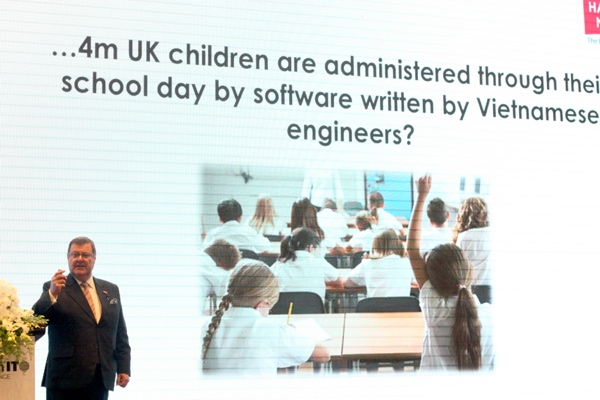 Paul Smith, president of Harvey Nash at VNITO 2015
"Vietnam Engineers Drive the World" was the sentence used in the presentation by Paul Smith, president of Harvey Nash, a headhunter outsourcing service provider at 2015 VNITO, the Vietnam IT Conference. 
Vietnamese engineers play a role in many big projects which target millions of users.
Four million students in the UK are managed by a software product developed by Vietnamese. More than 1 million healthcare workers now use the apps developed by Vietnamese engineers to minimize medical errors, increase the quality of patient care and enhance performance. 
More than 20 mobile phone users in the US make calls with software written by Vietnamese.
About 400,000 Ford car drivers monitor their cars with a mobile app programmed by Vietnamese. And 200 million Google users use image tagging software provided by Vietnamese engineers.
Paul, at his presentation at the workshop, spoke about how Vietnamese engineers obtained a contract when competing with big rivals.
NSK, a company specializing in making ball bearings and the wheeling systems used in automobile and shipping industries, needed a renewed version of ERP (enterprise resource planning) which was written by IBM 20 years ago.
NSK wanted the work to be fulfilled soon while it did not have experience in outsourcing. Harvey Nash then successfully persuaded NSK to assign the project to it, and with the team of engineers mostly from Vietnam, it fulfilled the order on schedule.
In order to obtain the contract, Harvey Nash overcame rivals from India and IBM Global Services.
A video clip shown at the workshop showed a representative from NSK saying that it was a very good experience to work with Vietnamese engineers.
Buu Dien, reporting about VNITO, a large IT event being held in Vietnam, showed that Vietnamese engineers have been increasing their presence in hi-tech projects.
It is also not known to many Vietnamese that 10 percent of Samsung's global software market is undertaken by Vietnamese engineers in Hanoi.
Do Duc Dung, head of the project management division of the Samsung Vietnam Mobile Research and Development Center (SVMC), said on Dien Dan Doanh Nghiep that the professional skills of the center are in no way inferior to any other Samsung software centers in the world.
SVMC is in charge of providing software to Samsung's mobile phone products and to LTE network service providers in South East Asia, Australia and New Zealand.
Thanh Mai