VietNamNet Bridge - The Vietnam Coal and Mineral Industries Group (Vinacomin) has officially started exploration at the Red River coal basin, preparing for coal exploitation there in the future. But the decision has yet to be made on which technology to use.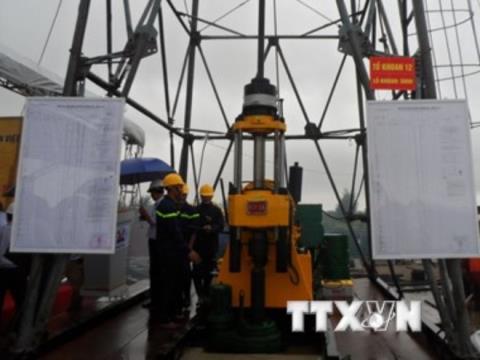 It is expected that the coal output would be 236 million tons. The places chosen for exploitation are in Nam Thinh commune in Tien Hai district, Thai Binh province.
According to Vinacomin, the exploration would be carried out in an area of 5.2 square kilometers and at the depth of -1,200 meters. It is expected that 23 holes will be drilled with the total 19,650 meters in depth. 
The exploration would be implemented in two phases, from September 2015 to September 2017, and from September 2018 to March 2019.
As such, Vinacomin has showed its strong determination to exploit the coal at the Red River basin despite warnings by scientists about the feasibility of the plan and the low economic efficiency.
Dr. Nguyen Khac Vinh, a renowned geology expert, said on Dat Viet that 236 million tons of coal in the area to be explored was within reach.
Vinh also said scientists from the Geology Federation estimated that there are about 30 billion tons of coal in Khoai Chau district (Hung Yen province) and Tien Hai district (Thai Binh province).
These estimates are more 'reliable' than the figure of 210 billion tons announced before, he said. 
Regarding the exploration and exploitation technologies, Vinh warned that it is necessary to choose suitable technologies, or it would cause land subsidence.
"If things cannot be done properly, the vast fertile land in the Red River Delta would turn into a city to contain salty water which will seriously affect tens of millions of people in 10 northern provinces," Vinh said.
"Besides, it would also affect other natural resources, exhausting the underground water and mineral water and causing geothermal loss," he said.
Meanwhile, Bui Duc Thang from the Geology Federation said it was very difficult to choose suitable technologies for the Red River coal basin.
If a familiar exploitation method like the one being applied at Quang Ninh mine is used at the Red River basin, this would affect the environment. 
Coal gasification, the latest generation technology, is being used worldwide on a trial basis, while it still cannot be put into industrial exploitation.
"It will be not easy to get coal from the Red River basin," Thang said. "One would be unreasonably optimistic to think that Vietnam could use coal from the Red River Delta basin instead of imports."
Dat Viet