VietNamNet Bridge - The Prime Minister listened to the young PhD's attentively, raised some questions and decided to fund a project on making guiding glasses for the blind after a three-minute dialogue.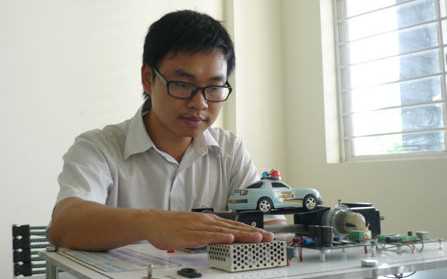 The Prime Minister and young scientists met during a meeting held by the Ministry of Science and Technology (MST) in Hanoi on September 11, 2015.
Nguyen Ba Hai, a lecturer of the HCM City University of Technique Education, caught the audience's attention when he spoke about developing glasses which can help the blind, a machine which can make clean coffee, JAVI, and a robot that can teach English.
The Prime Minister showed his interest in the glasses for the blind and asked Hai to give more details about it.
Hai began developing his idea in 2010, when he returned after graduating from a foreign university. 
The glasses, or as he called them "God's eyes", look like normal glasses, but they are programmed so they can identify obstacles on the right, left, ahead and behind, and can alarm users.
Hai said the glasses were not inferior to foreign-made products in quality, and they were tens times cheaper than imports.
The glasses initially looked like a hat, weighing 2 kilos with a production cost of VND20 million. 
After nine times of upgrading, it now weighs 0.2 kg and costs VND2 million only. The version in the laboratory even allows users to make phone calls and listen to music. 
Hai said he will continue improving the glasses to make them more compact, and allow users to listen to music and enjoy other entertainment programs.
There are 1.2 million visually impaired people in Vietnam, including 300,000 blind people. 
Hai does not want to commercialize the products because he hopes the glasses can be available at the lowest possible price, at VND2 million.
Hai also said the patent had been recognized by competent agencies, but that he was willing to give the invention to the State.
He plans to give the glasses to wounded soldiers, teachers, children and blind lottery sellers in some provinces, such as Ha Giang, Phu Yen and Soc Trang.
Hai said he once met people in a blind village in Soc Trang province who earn their living by peeling onions. He wanted make an onion-peeling machine to help ease the work of the people, but the locals told him that they would lose their jobs with such a machine. The young doctor then decided to invent glasses for the blind instead.
Thanh Mai