VietNamNet Bridge - Scientists believe that Chinese use old refurbished technology for the thermal power plants they have built in Vietnam in an attempt to transfer out-of-date machinery and polluting technologies to Vietnam.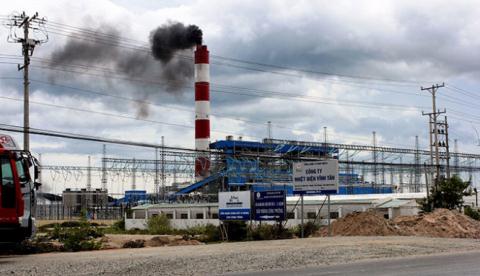 The Chinese-built Vinh Tan 2 thermal power plant in Binh Thuan province, for example, produces smoke and dust. 
The pollution of residential quarters remains a hot topic in all newspapers, while the construction of Vinh Tan 1 plant, also in Binh Thuan, kicked off in July 2015.
The common characteristic of the two plants is that they were built by Chinese contractors and use Chinese technologies.
A report of the Mechanical Engineering Research Institute released in April 2014 shows that 15 out of 20 thermal power plant projects have Chinese EPC contractors. 
Minister of Industry and Trade Vu Huy Hoang, when answering the National Assembly Deputies' inquiries last November, confirmed this.
Dr. Pham Sy Liem, chair of the Vietnam Construction Federation, pointed out that the nation's energy sources now depend on thermal power, especially thermal power developed with Chinese technology.
Liem said: "Vietnam's power industry tries to ease the thirst by drinking poison."
Duong Van Can, deputy chair and secretary general of the Vietnam Association of Building Contractors, noted that in many cases, Chinese contractors bring outdated technologies and refurbished old machines to power plants in Vietnam. 
"Vietnam will suffer from utilizing Chinese backward technologies – poor performance efficiency, high fuel consumption, and low safety," Can said.
An analyst, who asked to be anonymous, agreed with Can, noting that not all Chinese technologies are bad, but the problem is that Chinese do not bring their high technologies to Vietnam.
"The worst thing is that the thermal power plants depend on Chinese equipment supply. What will happen if machines break down and China refuses to provide spare parts?" he said.
Dr. Nguyen Van Nam, former head of the Trade Research Institute, said in principle, Vietnam has the right and necessary instruments to prevent 'technology waste' from China and any other country. A legal framework has been built to allow this. 
However, Nam said, ironically, there still exist loopholes through which Chinese out-of-date technologies can enter Vietnam.
"Existing legal documents have only set up general principles, while they are unclear about the responsibilities of the negotiators and importers," Nam said.
"Meanwhile, though there are numerous legal documents, they cannot be brought to life because of weak enforcement," he noted.
Liem suggested setting up requirements on the technologies used at power plants. "For example, it is necessary to clearly point out how many kilos of coal is needed to churn out one kwh of electricity," he said.
Dat Viet