VietNamNet Bridge - Vietnam is one of most competitive choices in the world for ITO (information technology outsourcing), according to market survey from Gartner, thanks to low labor costs, personnel stability and the "golden population" period.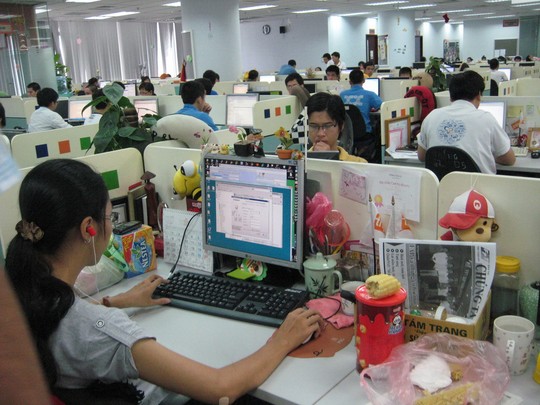 Great advantages
Gartner noted that the labor cost in Vietnam is just equal to half of that in India. Meanwhile, Vietnam has entered the golden population period meaning for every two people or more working, there is only one dependent person.
Lam Nguyen Hai Long, deputy director of the Quang Trung Software Park, cited a series of advantages that could make Vietnam the world's leading ITO provider. 
Vietnam produces 40,000 IT bachelor degrees every year. Besides the tax incentives offered to investors and the policies on human resource development, the government also encourages investment in high-tech zones and software parks.
Regarding the service fee, Long said though the ITO service fee has increased recently, the service fee is still lower than in Eastern Europe and India. 
The inflation rate of below 10 percent could also be a great advantage for Vietnam.
Great rival
Luong Thanh Binh from FPT Software, one of the Vietnamese largest software firms, noted that in the US, Vietnamese IT service firms now enjoy opportunities to compete equally with the large technology firms from India and China. 
Meanwhile, Vietnam has been chosen by Japanese firms as the top priority destination for ITO. According to Japan Information Technology Promotion Agency (IPA), 31.5 percent of Japanese firms plan to outsource IT services to Vietnam. 
Meanwhile, the figures are 20.6 percent for India and 16.7 percent for China.
The 2015 report by Tholons showed that HCM City (ranking 18th) and Hanoi (20th) in Vietnam both have been listed among the 100 most attractive addresses for ITO.
The latest report by Cushman & Wakefield in 2015 showed that Vietnam has for the first time been ranked Number 1 in the world for BPO (business process outsourcing).
Vietnam's 2014 White Book showed that software and digital content industry in 2014 achieved revenue of $2.6 billion.
Vietnam needs strong brand
Vietnam has good conditions to develop ITO services, but it still lacks a strong brand.
Nguyen Duc Hien from the Quang Trung Software Park noted that Vietnam's ITO remains little known in the world due to inappropriate marketing strategies. 
The majority of Vietnamese software firms are small and medium sized, and do not have opportunities to do marketing overseas.
Tran Phuc Hong, deputy CEO of TMA, confirmed that foreign partners complained it was difficult to find information about Vietnam's software industry in English. 
Meanwhile, India, Malaysia and the Philippines have been following highly professional strategies to introduce their software industry to the world. 
NLD