VietNamNet Bridge - Vietnam will continue developing coal-run thermal power plants in the upcoming years despite the anticipated impact on the environment, as no better solution has been found.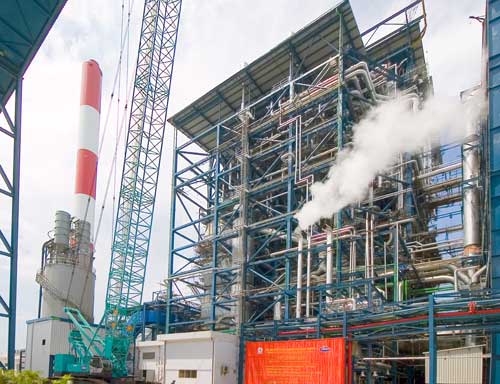 Hoang Thanh Binh from Green ID, which has just conducted a survey on the coal-run thermal power plants' influence on the environment, said the "influences are really serious".
The survey has found that greenhouse gas emissions from the plants from 2014 to 2022 are expected to account for 63 percent of total greenhouse gas emissions from thermal power plants.
The plants will also affect the ecosystem, agricultural production, construction works and people's health. The plants will produce a huge volume of slag, estimated at 14.8 million tons a year from 2020, while the figure would be 29.1 million tons from 2030.
Meanwhile, Tran Dinh Sinh, deputy director of Green ID, quoting a Harvard University's report as saying that 3.2 million people died young because of the diseases relating to coal-run power plants, including 31,000 in Vietnam and 8,000 in Mekong River Delta.
According to Greenpeace, there is no detailed research work about the effects of such power plants on human health. However, the plants produce toxic gas such as SO2, Nox and dust. 
Lam Thanh Hung, deputy director of the Kien Giang provincial Industry and Trade Department, noted that the plants have gradually been removed in other parts of the world, while Vietnam still continues building more plants.
Under the national electricity generation development program, coal-run thermal power will take up 60 percent of the country's total electricity output.
Nguyen Duc Cuong, director of the Energy Center, an arm of the Ministry of Industry and Trade, said that continuing coal-run thermal power plants were the only solution for Vietnam.
Cuong said that developing coal-run thermal power remains the top priority considering existing conditions, including coal import prices.
However, he said it is necessary to think carefully about where to set up thermal power plants, which technologies to use and how to control the price to minimize the impact on people.
Also according to Cuong, every alternative type of power has its own problems. The biomass production, for example, depends on crop harvesting. Wind and solar energy depend on the weather.
The high production costs will also hinder the development of renewable energy. As for solar energy, for example, it needs 15-18 hectares of land to create one MW of electricity.
Cuong said thermal power technology is simpler to operate and cheaper than gas power. 
The Mekong River Delta produces 4 million tons of rice husks a year, big amount of bagasse straw, which can be the fuel supply source for power generation used on coal plants.
Lao Dong