VietNamNet Bridge - Mobile network operators say they do not support the Ministry of Information and Communication's (MIC) proposal to set limits on the numbers of SMS messages because they fear that customers will fall into OTT service providers' hands.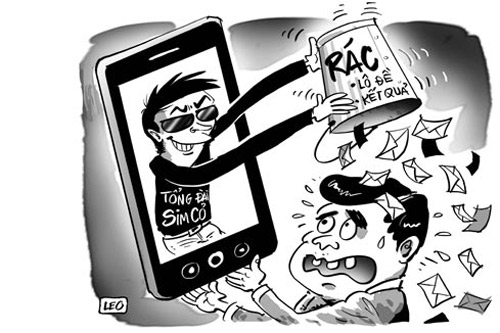 In an effort to stop spam, MIC plans to set up limits on the numbers of SMS messages that can be made within a certain time.
The limits could be five SMS for five minutes, 20 SMS within one hour, or 50 SMS within 24 hours.
Under a legal document being compiled by MIC, if mobile phone subscribers want to send more messages than allowed, they will have to register with the service providers who will not have the right to charge an additional fee for the excessive numbers of SMSs made.
The watchdog agency faces heavy criticism from the public on the failure to control spam messages. The problem is that it is difficult to distinguish the users who have high demand to send messages and those who just want to spread spam. 
Preventing spam based on the numbers of SMS sent by users has faced strong opposition from mobile network operators. 
A senior executive of Viettel, one of the three largest mobile networks in Vietnam, said it  200 SMSs a day cost only VND2,500.
"I am sure many clients often send more than 100 messages per day and they will find it inconvenient to register with service providers," he said.
A representative of Vietnamobile also said the majority of its clients are students who send more than 100 messages a day. The SMS limit method, once imposed, will seriously affect its business, since students are Vietnamobile's major clients.
VinaPhone, one of the three largest mobile network operators, fears that clients may shift to use OTT apps instead. If so, mobile network operators will lose the customers with the most potential.
An analyst said that the response by mobile network operators to MIC's plan was foreseeable. 
He said telcos would be foolish to stop spam because this would affect their business.
Network operators all said they have been doing what they can to prevent SMS spam and upgrade service quality.
Vietnamobile said it has set the limit of 30 SMS per minute, which means one user must not send more than 30 SMS per minute. 
The limit was set after it found that normal customers send one message within two seconds, or 30 messages in one minute.
Buu Dien