VietNamNet Bridge - The Prime Minister has urged the national coal mining group Vinacomin to carry out exploration at the Red River coal basin with underground coal gasification technology (UCG).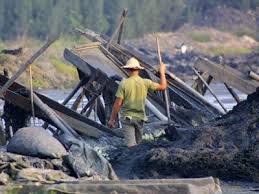 The exploration will be done on an area of 5.29 sq kilometers for a period of 48 months. The expected reserves are 236 million tons.
Vinacomin has signed an agreement with the Thai Binh provincial People's Committee on investment in the coal exploration and UCG experiment in Nam Thinh Commune of Tien Hai District. Total investment capital is about VND450 billion which will be disbursed from 2015 to 2018.
Vinacomin has officially requested the Ministry of Natural Resources and the Environment to grant the license for mineral exploration in the area.
Meanwhile, scientists remain cautious about the methods of exploitation at the Red River basin. 
Geologist Nguyen Sy Quy, who was once a high ranking official of the Ministry of Industry, noted that coal exploitation may cause subsidence and landslides, which would turn the Red River Delta into a salty water reservoir.
He emphasized that the landslide and subsidence would not occur immediately, but step by step. The large Red River Delta could be inundated with sour and salty water.
Meanwhile, others warned that problems may be so serious that local people would have to evacuate to other areas.
Quy said the landslide process would depend on how Vietnam organizes coal exploitation and the technologies to be used.
The expert said as the ground in Red River Delta is created by porous soil, the landslide and subsidence would not occur in the right way, but would be like collapsed houses causing others to fall, in a domino effect.
"The consequences would be immeasurable," he warned.
In fact, Vinacomin and Vietnamese scientists still do not have sufficient information about UCG and the Red River basin, while the workers of the project management unit still lack experience.
Scientist Phan Truong Thi from the Hanoi National University noted that no one would excavate the earth to find coal, but would apply UCG technology to convert coal into product gas, then bring the product gas to the surface through production wells drilled from the surface.
According to Thi, geologists first mentioned the Red River coal basin in 1998, estimating the reserves at 210 billion tons. However, no detailed research work has been conducted about the basin.
Five years ago, Japan decided to spend $8 million on studies on exploiting coal at the Red River Delta. However, it later gave up the job.
Dat Viet